A renowned trader Luke Martin has turned his attention to the fourth largest cryptocurrency, XRP, comparing its performance to that of other altcoins over the past few months and since the start of the year in particular.
'Where's the bottom?' he asks.
'XRP has been dropping all of 2020, where's the bottom?'
In his recent tweet, trader Luke Martin mentioned that over the past few months, large groups of altcoins attracted more interest from investors and traders, and showed an increase in narratives, as well as in trading volume.
The expert pointed out that XRP as a rule makes at least one pump during a bullish period like that.
However, the fourth largest coin has been in decline for the whole 2020, Luke Martin reminded his readers. He is curious when XRP will reach the bottom and if it is going to pump after that at all.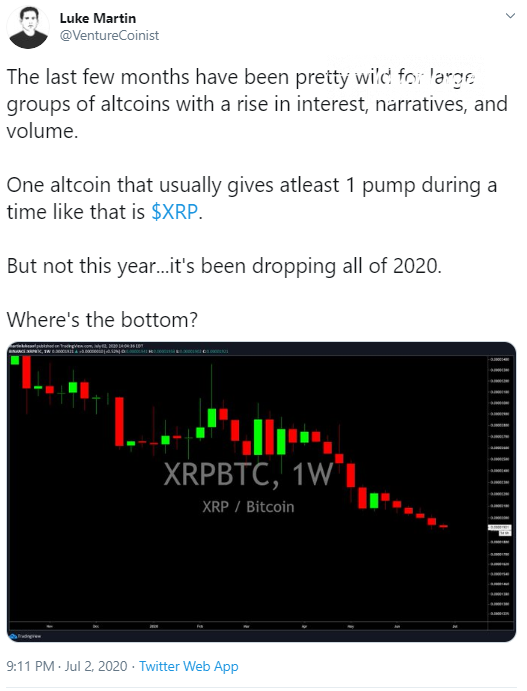 Image via @VentureCoinist
An anonymous trader DonAlt, with an astounding amount of subscribers on Twitter (145,700) commented that he believes the XRP bottom to be located at the 1500 Satoshis level ($0.13688).
To that, Martin stated that he would be happy to see a chart which would justify the XRP army talking about the potential XRP price skyrocketing after dropping for another few years.
'The primal trend is still bearish'
Anonymous trader 'MarketMinds' from TradingView has shared a chart, on which he illustrated his bearish expectations towards Ripple's XRP.
On the chart, the trader shows that right now, the coin remains inside the long-term downward channel.
The primal trend remains bearish, he said, and XRP is likely to test the bottom of the channel – the $0.10 price level.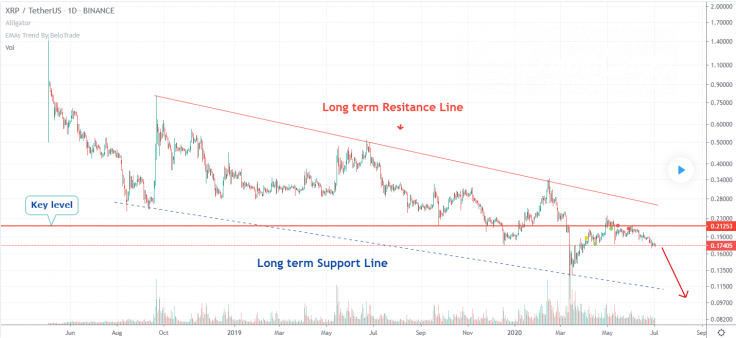 Image via TradingView
John McAfee, Anthony Pompliano dismiss XRP
Recently, such renowned figures in the crypto sphere (though, they have slightly different approaches to crypto), as the IT security expert John McAfee and a venture capitalist Anthony Pompliano, both poured some criticism over XRP.
The crypto baron John McAfee stated that XRP is 'worthless', besides, he claimed that the Ripple's major partner MoneyGram does not use it, in fact.
Anthony Pompliano said in his recent podcast with the founder of TechCrunch Michael Arrington that if Ripple is successful, that does not mean that XRP has to be successful too.