Last week was crucial for the American XRP community. Interest in the XRP token has skyrocketed and revisited yearly highs.
XRP searches are trending in the United States
U.S. users of the Google search engine were particularly curious about the XRP token during the last days of July 2020. The "Interest Over Time" indicator that demonstrates the relative quantity of searches for the given word or phrase has skyrocketed for the "XRP" ticker.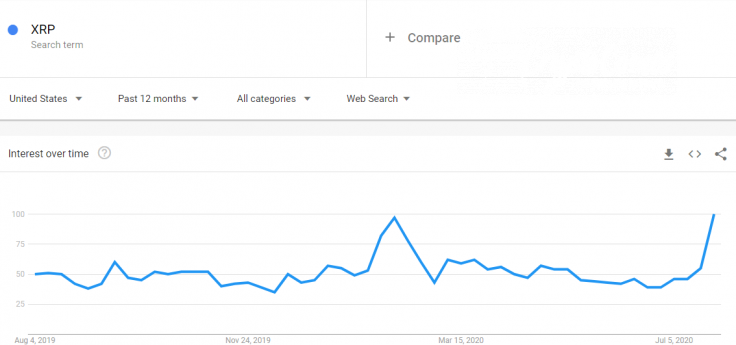 Image by Google Trends
For the past 12 months it has reached 100 points, which signifies the absolute maximum. Prior to crypto's Black Thursday of March 2020, this indicator had been as high as 97. Now, the "Interest Over Time" ratio for XRP has surpassed the numbers of June 2019, revisiting the 14-month high.
It is interesting that similar processes have been witnessed in some other major nation-states when a large percentage of the population is interested in cryptocurrencies and blockchain. For instance, in India, this indicator has surpassed February highs by almost 40 percent.
In Russia, this indicator surged sixfold in June and July of 2020 and also revisited yearly highs. However, for the whole world, it has not surpassed February highs, demonstrating 97 points out of 100.
In Google Trends, XRP has decoupled from Bitcoin (BTC)
Google Trends statistics for Bitcoin (BTC) is utilized by some traders to predict the performance of the price of a flagship cryptocurrency. Its search popularity paradigm is different from XRP's.
Bitcoin (BTC) is still failing to re-enter the 80-100 zone of high popularity. The last time it was witnessed at that level, prior to the start of the fourth Bitcoin (BTC) epoch of mining rewards, was in the first days of May 2020. Even before March's crypto market crash, it was much more popular than today.
Ethereum (ETH) performance closely resembles XRP's. The second cryptocurrency's popularity on Google Trends has almost tripled in July, which also allowed it to set a new yearly high. This coincided with new local highs in the ETH/BTC price index.