Flare, the first-ever "utility fork" of XRP Ledger, will have Spark tokens as a backbone element of its tokenomics. Now its seamless distribution is supported by top-level Korean exchange Bithumb.
Exchange from Top 5 now supports Spark airdrop
According to the official announcement by the Bithumb team, all of its XRP holders will receive Spark tokens seamlessly. As with other exchanges, Spark will be distributed 1:1 to the XRP balances registered at the time of the airdrop.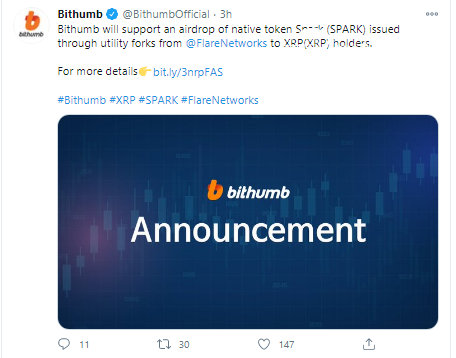 Image via Twitter
The snapshot will take place on Dec. 12 at 9:00 a.m. KST. The exact date of XRP payouts will be shared by Flare Networks later, but it will most likely occur in early 2021.
Although the seamless airdrop of Spark tokens is supported by numerous wallets, exchange services and even crypto lending platforms, Bithumb is the first top-tier platform to take part in this program.
Bithumb is the largest cryptocurrency exchange in South Korea, a crucial blockchain hub. According to Binance's Coinmarketcap, it is ranked fifth in the list of spot exchanges with the highest trading volume.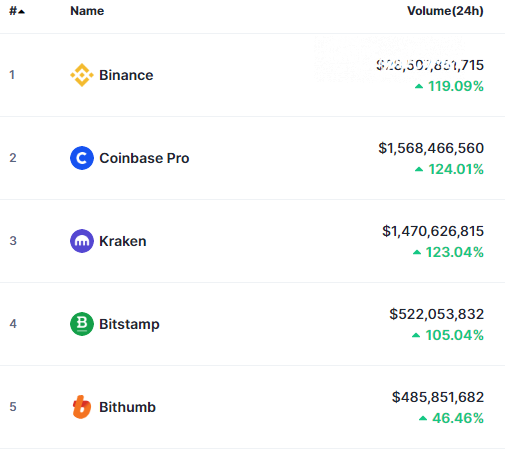 Image by Coinmarketcap
Founded in 2014, Bithumb exchange processed $485 mln in trading volume in the last 24 hours across 122 spot trading pairs.
More giants to come?
As the XRP Army is getting closer to its much-anticipated Spark airdrop, its support by top-level exchanges becomes a red hot topic for community discussions. As covered by CryptoComes previously, Flare Networks negotiated the collaboration with Binance, Binance.US and Kraken.
However, the official settlements have not yet been reached. Also, Bitstamp is "considering" the support of Spark distribution right now.
Flare is the programmatic "utility fork" of XRP Ledger, which empowers it with smart contract functionality. It will use Avalanche consensus and will be fully Ethereum-interoperable.