Wietse Wind, lead developer of XRPL Labs tasked with developing and maintenance of XRP-based payment solutions, urged all soldiers of the XRP Army to support an interesting proposal.
Special icon for XRP
According to his recent tweet, Mr. Wind noticed that FontAwesome project that creates fonts for software applications is considering adding a special icon for the XRP coin. If the proposal passes, many programs may start displaying XRP in a more attractive way.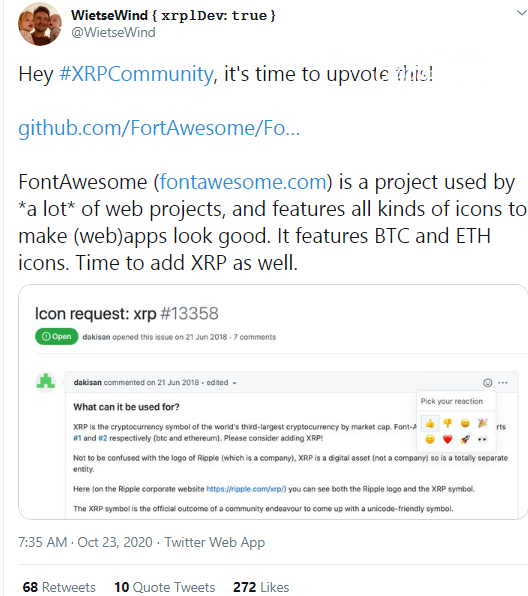 Image via Twitter
The request to add an XRP icon is featured by a number #13358 in the main development repository of the FontAwesome GitHub directory. At the moment, only two first cryptocurrencies by market capitalization, Bitcoin (BTC) and Ethereum (ETH), are displayed under specific icons.
The progress of upvoting/downvoting is tracked online by the community-driven The Icon Leaderbord displayed on the FontAwesome website.
The XRP community seems to be very much keen on this novelty. At press time, the 'XRP Icon' proposal is ranked #1 with 144 upvotes, leaving the 'Gun' and 'Policeman' proposals in the dust.
And what about Twitter?
Some XRP Army soldiers are guessing whether Twitter is considering adding an emoji for XRP token and Ripple Inc. Twitter Inc., which is run by passionate Bitcoiner Jack Dorsey, has already released some crypto-related emojis.
Besides Bitcoin (BTC), it displays Binance Coin (BNB) and Crypto.com Coin (CRO) as attractive branded icons.
It should be noticed that the mother entity of Twitter Inc. is among the largest pro-Bitcoin (BTC) institutions. According to Bitcoin Treasuries, it has allocated $50 Mln in Bitcoins (BTC) and is witnessing lucrative profits.
However, other organizations, which is are so ethusiastic about cryptocurrencies and the blockchain segment, are lagging behind Twitter in adding crypto-related icons. For instance, a Change.org petition that asks Unicode to implement a 'Bitcoin' logo has gathered only 117 votes over the past year.