The team at XUMM Wallet, developed by XRP Labs, has taken to Twitter to announce that they have developed a new tool.
It allows owners of XRP ledger accounts created for XUMM Wallet—which come automatically with "Secret Numbers"—to switch to seed phrases if they use their XRPL account with another client/wallet.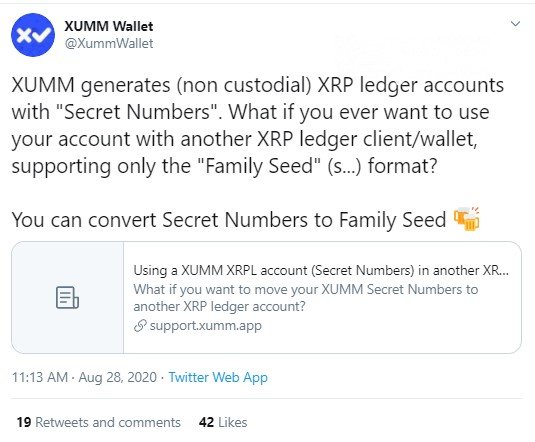 Image via Twitter
"Secret Numbers" instead of traditional security tools
According to the tweet, at the moment that a user creates a new account on the XRP ledger with XUMM Wallet, the account arrives with "Secret Numbers" as an inbuilt security measure.
Despite "Secret Numbers" being safer than mnemonic words or seed codes, the process may take a lot of effort since "Secret Numbers" require more than just entering a list of security words, or a set of symbols, saved on a piece of paper.
"Secret Numbers" have to be generated anew each time, which prevents malefactors from stealing your security code even if they are watching your fingers as you are typing.
When entering Secret Numbers, XUMM starts with a random digit, each time, forcing you to go to the right digit with a Plus and Minus key, then to go to the next field.
However, at the moment, if a user decides to use his/her account with another wallet or client on the XRP ledger that does not support "Secret Numbers," the new tool will help them to convert their "Secret Numbers" to a seed phrase.
Xpring doubles down on its investment in XRP Labs
On Aug. 4, the investment division of Ripple, Xpring, announced that it allocated an additional investment to XRP Labs to provide more support to the development of the XUMM Wallet and its team.
Xpring reckons that the XUMM Wallet is among the best products representing XRP Ledger, as it supports and manages accounts on XRPL and allows for the sending, receiving and holding of XRP coins.