Full-time trader and analyst Michael van de Poppe (also widely known as "Crypto Michael") has published another video on his YouTube channel.
In it, he talks about the bullish prospects of XLM and XRP and names new price targets for them.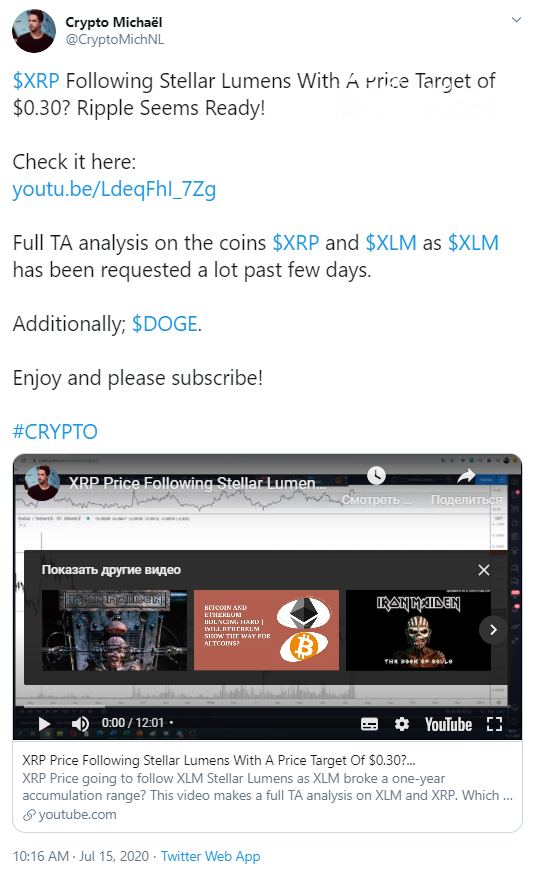 Image via Twitter
XLM is likely to rise after consolidation
Looking at the recent price moves of XLM, the analyst (having mentioned first that lots of people have recently been asking him whether the coin is still okay to invest in or trade with) stated that by now Stellar Lumens (XLM) has broken above the resistance level between $0.07 and $0.08.
The coin had been testing that resistance for about a year, as per Michael, and now the coin is trading at $0.0917. Going below this resistance again is the last thing investors want to see right now, the analyst stated.
Besides, it took four to five tests for the coin to break through that resistance.
"Crypto Michael" has shown on the chart that every upsurge XLM has seen previously was followed by a consolidation. The same thing may happen now, he pointed out, and this consolidation may take a few weeks.
Now, the market will see whether XLM will hold $0.08 as support. A higher rise is possible, the trader says, but not an immediate one. It will again take several attempts.
However, after the consolidation (if XLM holds the $0.08 level as support) the coin is likely to spike towards $0.14-$0.16.
XRP targets $0.28-$0.30
Michael van de Poppe described XRP has having reached a higher low after a long while, saying that now XRP is consolidating and is preparing to break the 100-day MA and the 200-day MA.
If that happens, the analyst expects the four largest coins to head for resistance at $0.24 and then $0.28.
Overall, the analyst stated that if XRP manages to confirm the breaking of the downtrend, the surge in price it will show is likely to be massive.
He pointed out that this is even more likely to happen once XLM gets going, since XRP always follows this coin.