Prominent investor and researcher Qiao Wang set up a unique experiment with his Twitter account. He invited his followers to promote their favorite asset. Mr. Wang, in a few words, slammed the concept of "shilling."
The world of bad investments
Wang promised to explain why every asset promoted by his followers may be a bad investment. Asked about XRP, he outlined its usage's shady essence, which differs from the way that Ripple Labs, Inc. describes it.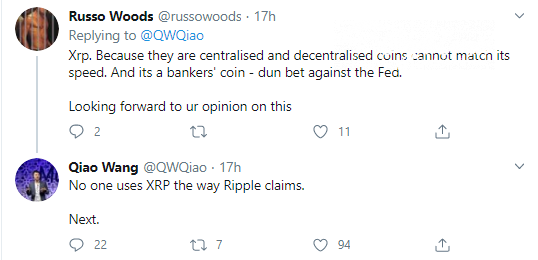 Image via Twitter
Cardano (ADA) and Litecoin (LTC) were bashed for their leaders' policies. Mr. Wang recalled the arrogant tirade of IONK CEO, Charles Hoskinson, and the surprising LTC sell-off by Charlie Lee.
The analyst criticized the data model of Stellar Lumens (XLM) blockchain as the "worst ever." Some altcoins were slammed as inappropriate for their use cases.
For instance, speaking about Thorchain (RUNE), Mr. Wang admitted that centralized exchanges create much better cross-chain scaling solutions. Algorithmic stablecoins, like privacy-focused xUSD, look like "motion machines" for researchers.
New XRP Army
Ryan Sean Adams, investor and vocal member of the Ethereum (ETH) community, asked about the U.S. dollar. Mr. Wang predicted net deflation of USD in the decade 2020-2030.
Analyzing the results of this amazing battle, Mr. Wang come to the conclusion that there is a new balance of power in the Crypto Twitterverse (CT). First of all, he admitted that the most active and aggressive CT community, XRP Army, shows no signs of capitulation. As covered by CryptoComes recently, XRP's liquid marker cap has been surpassed by Chainlink's (LINK).
Mr. Wang has emphasized the activity of the Chainlink (LINK) community. He even called LINK promoters ("marines") the "New XRP Army."
However, he admitted that there is nothing interesting about Tron (TRX), despite its active promotion and many new releases in the Tron Ecosystem. He recommended that his followers do not ignore these concepts:
Don't bet against passion. Bet against apathy.