The major agency dealing with financial statistics, Weiss Ratings, has bashed the whole family of stablecoins for being centralized and saying they would never be able to replace 'pure' decentralized crypto.
CENTER blocking a USDC wallet
The reason for this criticism was the CENTRE Consortium blocking a wallet and freezing the assets on it totalling $100,000 in the USDC stablecoin.
CENTRE is the issuer of USDC with the CEO of Circle, Jeremy Allaire, being on board of its managers. Circle and the US major crypto exchange Coinbase used the CENTRE technology for emitting USDC.
'Stablecoins will never replace pure crypto'
The crypto wallet was blacklisted on request of law-enforcement organizations, CoinDesk reported, which means that the owner can neither add more coins to the address nor move them to another one.
According to the policy statement of CENTRE, it can consider freezing users' USDC balances only if a security breach takes place or if authorities demand that.
The crypto division of Weiss Ratings has tweeted that this policy of centralized companies issuing digital currencies gives these assets a bad name and undermines the community's trust to them.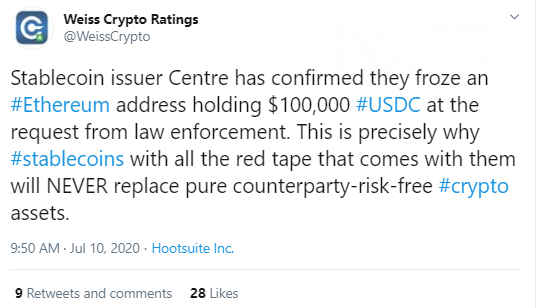 Image via @WeissCrypto
Will 'pure crypto' manage to remain independent of authorities?
Almost eighty crypto companies, including the crypto media outlet The Block, took part in the recent 'PPP bailout giveaway' receiving from $350,000 to $1 mln.
After that some crypto influencers, like Max Keiser and Peter Todd, have publicly asked questions to those platforms as to why they accepted the Fed's newly printed USD, which they earlier they all called worthless and printed out of thin air.
Peter Todd has questioned Electric Coin Company about that, the emitter of Zcash – an anonymous cryptocurrency, which is meant to prevent the governments controlling users' finance and financial activities.