Q4, 2020, injected new life into the attempts of Chinese authorities to crack down on most segments of the cryptocurrency industry. Undisputed expert and insider Colin Wu reveals new forms of regulatory pressure.
USDT is under attack
According to Wu, he has been informed of the first-ever criminal proceedings against USDT-based money laundering schemes. It was used as a front for money laundering.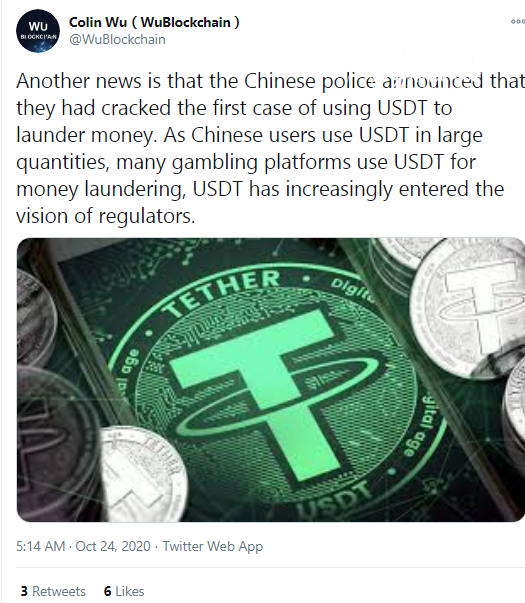 Image via Twitter
According to Mr. Wu, USDT is widely used as an instrument for payments in China in the gambling segment. The insider tells the story of the illegal gambling studio that operated overseas servers to offer gambling services to Chinese citizens.
Since the criminals were unable to accept Chinese Yuans directly, they implemented a system of USDT-powered codes. Their customers received their prizes in USDT codes, followed by exchanges in CNY.
Also, USDT-powered codes served as the main method of refunding gamblers' accounts. This scheme made it possible to launder Chinese Yuans obtained by illicit gambling websites.
Fighting on many fronts
This law enforcement action is yet another step in a Chinese policy tasked with combating the usage of cryptocurrencies in money laundering. As covered by CryptoComes previously, PRC authorities launched a national "anti-card" campaign that has already affected influential crypto-focused "over-the-counter" merchants.
Colin Wu shared that Zhao Dong, the nation's most powerful "over-the-counter" merchant, was recently arrested in China. He was the partner of Binance OTC and shareholder of Tether Limited.
It should also be noted that yesterday, Oct. 23, China prohibited issuance of private tokens that may replace Chinese Yuan. It may be the first time that the digital currencies are mentioned in a formal Chinese legislative document.