Santiment analytics provider published a tweet regarding a major increase (84 percent) in the ETH holdings of crypto whales who have been acquiring more coins on the dip as they are confident in Ethereum's potential as a currency.
Big whales have increased their ETH bags by 84%
In a recent tweet, Santiment stated that the amount of ETH stacked in the top non-exchange addresses increased by 84 percent in August.
The ETH bag that these whales now own increased from 3.16 mln to 5.80 mln in August.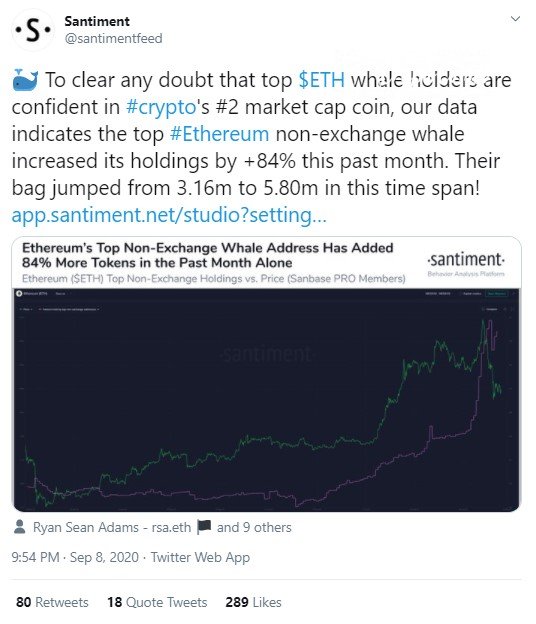 Image via Twitter
Number of 1,000+ ETH addresses drops
In the meantime, smaller ETH holders seem to be cashing out their stashes in a panic.
Glassnode has tweeted that the amount of ETH wallets holding 1,000+ Ether has declined and hit a two-year low.
Currently, the number of these wallets constitutes 7,283 compared to another low of 7,287 registered earlier today.
$117,763,740 in ETH moved by crypto whales
Meanwhile, whales have made several hefty transactions of ETH over the past 24 hours—342,436 ETH overall.
Whale Alert has reported three gargantuan transfers of the second biggest currency made between anonymous wallets, with just one of them wired from an unknown address to the OKEx exchange.
The total of these three transfers amounts to $117,763,740.
Having dropped from its recent high of $477 per coin on Sept. 2, ETH has been in decline since then and, at press time, is going for $346, according to CoinMarketCap.