Santiment which addresses the on-chain analytics of major cryptocurrencies, has noted that the U.S. Dollar Tether (USDT) supply on exchanges is declining hand-in-hand with a brewing bullish Bitcoin (BTC) rally.
Tether (USDT) is leaving crypto exchanges
As explained by Santiment analysts in their recent tweet, the share of the Tether supply that is available on cryptocurrency exchanges has been shrinking during the last month. Twenty-one percent of USDT supply was available through exchanges one month ago.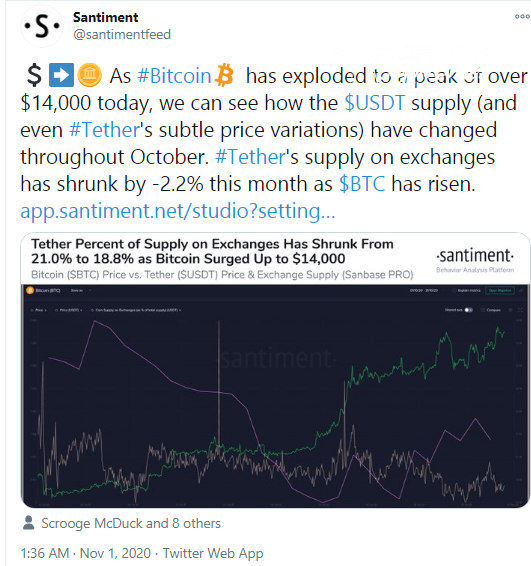 Image via Twitter
At the moment, only 18.8 percent USDT can be purchased via crypto exchanges. Thus, this indicator witnessed a significant drop, by 2.2 percent.
This looks even more interesting considering the rapid spike of the Bitcoin (BTC) price. Last month brought the most impressive green candle in many months. Some exchanges registered the highest Bitcoin (BTC) monthly close ever.
The flagship cryptocurrency surged almost 30 percent in 30 days. Yesterday, Oct. 31, it touched the unbelievable level of $14,100 in a flash on major spot exchanges.
What does this mean?
Increased interest of buyers in Bitcoin (BTC), combined with an outflow of Tether (USDT), may evolve into a powerful catalyst of a much more turbulent Bitcoin (BTC) run.
It should be noted that this 2.2 percent drop follows the constant increase of Tether's (USDT) circulating supply. According to the most recent data by the "Transparency" dashboard of Tether Limited, USDT supply is sitting at $16,823,713,004.
This number includes all Tether versions (Omni, Ethereum, EOS, Tron, Liquid, Algorand and SLP). To put this in context, only six months ago, this number was 50 percent less.
Paolo Ardoino, CTO of Bitfinex and Tether, stressed that it took only 54 days to grow USDT supply from 10 bln to 15 bln.