One of the flagship instruments of the ongoing DeFi craze, Synthetix (SNX), has implemented a new system of price oracles in its mechanism. Now it utilizes Chainlink (LINK) solutions in accordance with Synthetix Improvement Proposal (SIP) 36.
Accurate prices for all synths
According to the official announcement by Synthetix Protocol (SNX), the eight-month process of Chainlink (LINK) oracles implementation has been accomplished successfully. Now, Chainlink (LINK) decentralized oracles broadcast to Synthetix instruments all prices for crypto-based and ForEx-based synths (synthetic assets).
We're excited to announce that with today's Pollux release, all Synths are now powered by @chainlink's network of decentralised oracles! This marks a major step forward for the decentralisation of Synthetix, as oracles are a pivotal $LINK in the system. https://t.co/VPuYEVcY2s

— Synthetix ⚔️ (@synthetix_io) September 1, 2020
Previously, Chainlink (LINK) tools already worked in some commodities-backed and FX synthetic assets, and this integration proved to be successful and profitable:
Since integrating Chainlink's Price Reference Data, our commodity and FX synths have successfully maintained accurate, tamperproof valuations in accordance with the real world market price of their underlying assets, even during times of high volatility.
The integration of a full-fledged set of Chainlink oracles is one more step toward the ultimate level of decentralization of Synthetix. As explained in an introductory blog post, this release removes all dependence on the Synthetix core team for maintenance of the oracle infrastructure.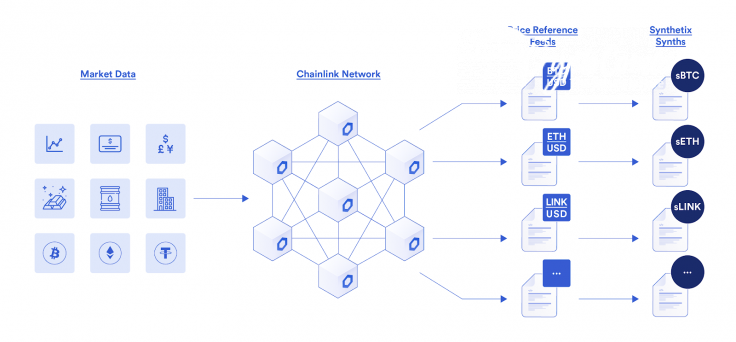 Image by Synthetix
Additionally, the new solution will guarantee the accuracy of prices for traders onboarded by Synthetix.Exchange. Broadcasting up-to-date market prices will eliminate the chances of unfair arbitrage.
From oracles to decentralization
As covered by CryptoComes previously, one month ago, Synthetix Foundation was decommissioned. It was replaced by three independent DAOs tasked with grants approval, system development and products progress.
Switching to fully decentralized governance is a powerful trend in the turbulent DeFi realm. For instance, Aave Protocol (LEND), the pioneering ecosystem for decentralized lending/borrowing, has initiated the process of governance transition to the community.
The first decentralized governance proposal referendums for Aave Protocol (LEND) were organized through the instruments of Ethereum's Ropsten testnet.