Stellar Development Foundation, a non-profit entity tasked with the development and adoption of Stellar (XLM) blockchain, has shared a report on its Q3, 2020 progress. Furthermore, SDF announced significant new features to arrive as soon as this year.
Q3 in Stellar: USDC onboarding, community reorganization and more
According to the report, the SDF team was hard at work in Q3, 2020. Numerous facets of the roadmap were in the focus.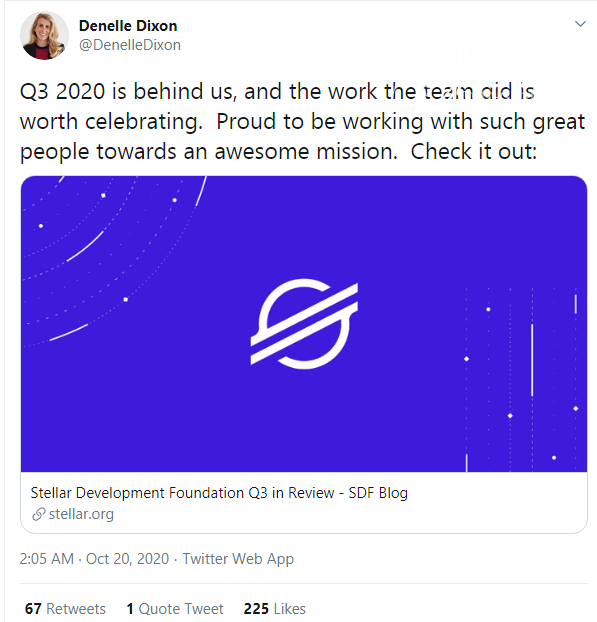 Image via Twitter
The collaboration with the second most popular stablecoin, USD Coin (USDC), is the greatest achievement of the SDF in the last month. The U.S. dollar-pegged assets developed by Circle and Coinbase will go live on top of the Stellar (XLM) blockchain in early 2021.
Three corridors—Flutterwave, Cowrie and Clickpesa—will leverage the Stellar-based liquidity for retail payments. In Q3, 2020, numerous prospective partnerships focused on XLM adoption were inked in Africa.
Also, the SDF team has launched a new iteration of the Stellar Community Fund initiative. As covered by CryptoComes, its new version will consist of two separate purpose-built entities.
Ready-made projects can now seek funding from Seed Fund while experimental solutions should go to Lab Fund.
Big plans for Q4
In addition, the SDF engineering officers scheduled crucial technical upgrades for both Stellar Core and Horizon, Stellar's API for Q4, 2020.
The Stellar (XLM) blockchain community will vote on all meaningful novelties through the referendum. The Q4 upgrade (Claimable Balances and Sponsored Reserves) will target advancing the process of connecting Stellar to the world's financial infrastructure.
Also, the performance of Horizon, an API instrument for Stellar clients, will be advanced with the new releases. The experiments with 100x scaling of Stellar Core are already up and running in Stellar (XLM) testnet environments.