On the latest episode of the "Lindzanity" podcast, Alex Danco of ecommerce giant Shopify revealed that Bitcoin is the only cryptocurrency he owns.
While he notes that it solves the double-spend problem, and the ownership of BTC is decentralized, the coin's USD value is "anything but." He recalled the theory of American economist Hyman Minsky regarding stability being inherently destabilizing. Danco used the theory to point out that exchanges, mining and scaling solutions contribute to the centralization of the leading cryptocurrency, and companies like Blockstream are wielding too much power:
A lot of the liquidity around Bitcoin and the ability to avoid congestion on the Bitcoin network, which we have to figure out how to do one way or another in order to scale this thing, is being managed by outside companies. Blockstream is a business, right?
The Bitcoin of the stock market
Shopify's stock is routinely compared to Bitcoin because of immense gains that made the Amazon competitor the second-largest Canadian company by market capitalization.

Barstool Sports founder Dave Portnoy, who got out of crypto in just one week, called it a "monster" yesterday.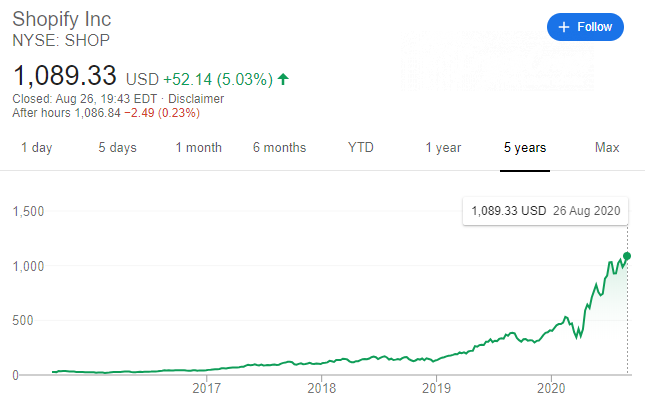 Image by google.com
Back in May, Shopify started accepting cryptocurrency after partnering with CoinPayments.

Facebook doesn't print its own money
Speaking of Shopify's membership in Facebook-backed Libra Association, Danco called it "phenomenal."
If this takes off, we want to be a part of it.
It became the first major member of the embattled organization that was abruptly abandoned by eBay, Visa and other major companies.

He claims that Libra will become an "unbelievably powerful asset" if it manages to wrestle through regulatory roadblocks.
This is an interesting way for more people to participate in the digital economy.
The social media giant revamped the Libra cryptocurrency, and it is currently working on fiat-pegged cryptocurrencies instead of one synthetic "world currency."