r/EthStaker, a recognized Reddit community dedicated to staking in Ethereum 2.0, has reported a new scam. It may be dangerous due to the high amount of the minimum Ethereum 2.0 stake and increasing Ether price. Here's why.
32 ETH and not a penny less
In their recent tweet, representatives of r/EthStaker warned all Ethereans about developing scams. According to r/EthStaker, malefactors impersonate intermediaries ready to help with staking less than 32 ETH.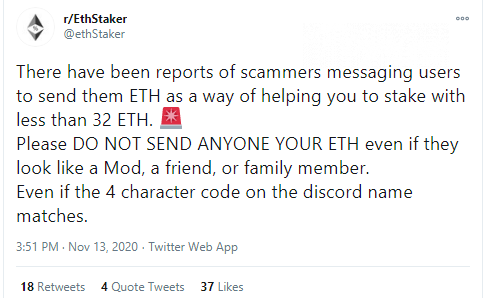 Image via Twitter
At press time, Ethereum costs almost $460; thus, joining ETH2 as a validator is worth $14,700 minimum. This sum may be too large for many Ethereum (ETH) enthusiasts, so scammers offer very attractive services.
However, these "assistants" typically just steal users' Ethers. Fraudsters may impersonate EthStaker moderators or victims' friends.
Scammers even learned to create fake Discord accounts with realistic-looking names, so it is highly recommended to avoid sending Ethers for Ethereum 2.0 staking bypassing its main launchpad service.
Fraudulent activity heralds a much-anticipated release
The spike in blatant scams usually occurs on the eve of overhyped releases. Ethereum 2.0 is no exception: as covered by CryptoComes, in October of this year, the fraudsters published a fake deposit contract before the legit one went live.
Ethereum (ETH) network enthusiast Alexander Fisher, who exposed that contract on GitHub, admitted that all Ethereans should brace themselves for many more phishing launchpads, deposit contracts and other nefarious activity.
Also, in July 2020, malefactors launched the "Ethereum 2.0 PoS Mining Pool" website and invited all gullible ETH holders to send them Ethers in order to participate in staking when its schedule was not even announced.
At the moment, 70,592 Ethers are deposited to its initial contract, which equals 13.4 percent of what ETH2 phase zero needs to start operations.