Ethereum (ETH) network activist, organizer of Michigan Ethereum Meetup and moderator of r/EthStaker subreddit Alexander Fischer, have unveiled that fraudulent Ethereum 2.0 'deposit' contract was uploaded by scammers on Oct.14.
Fraudsters long for your 32 ETH
Mr. Fischer displayed a screenshot made by Etherscan.io, the most popular Ethereum (ETH) network explorer. It demonstrates the code of a fraudulent smart contract that 'impersonates' Ethereum 2.0 depositing instrument.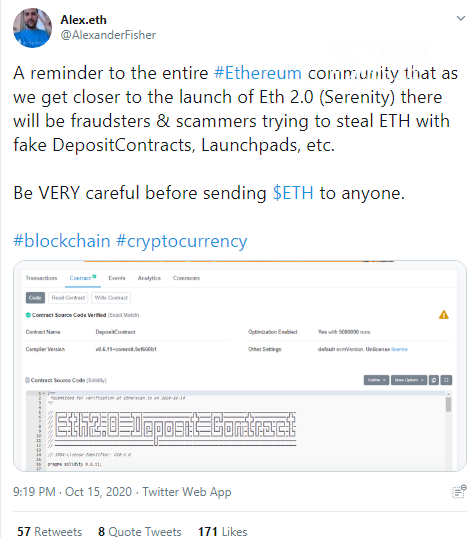 Image via Twitter
This sort of Ethereum (ETH) scams seems to be very lucrative as the minimum amount of stake in ETH2 is 32 ETH. Given actual Ethereum (ETH) price of $369, the 'entry ticket' to the next iteration of Etheruem (ETH) protocol costs more than $11,000.
That said, even if nine Etheruem (ETH) holders were so gullible as to deposit their 'stakes' months ahead of ETH2 official launch, the fraudsters would receive six-digit earns.
Seasoned Ethereum (ETH) enthusiast re-iterated that all Ethereum (ETH) holders interested in validating processes within Ethereum Serenity, should be super-careful when sending their Ethers to anyone.
More scams to come soon
Mr. Fischer warned that all Ethereans should brace themselves for numerous fake 'deposit contracts', 'launchpads' and other sort of blatant scams. To protect his followers, he avoided disclosing the accurate details (address, creator's wallet public key etc.) of the fraudulent contract in question.
His colleagues, who assist Ethereum (ETH) community management by moderating the EthFinance and EthStaker subreddits, admitted that they will implement 'heavy' moderation to prevent Ethereum (ETH) community members from getting scammed.
It should be noticed that in May 2020 scammers launched a fake website that promoted itself in Google Ads as 'Ethereum 2.0 Proof-of-Stake Mining Pool'. It guaranteed up to 12% in monthly rewards and accepted deposits from 0.2 ETH.
CryptoComes editorial team finds it necessary to re-iterate that Ethereum 2.0 isn't launched yet. At press-time, it is undergoing a testnet experiments phase, so everyone who asks for your Ethers to participate in ETH2 staking right now, is a scammer.