Remittance giant and Ripple partner MoneyGram recently inked a deal with major telecommunications provider Airtel Africa that has 19 mln customers.

The deal is meant to expand MoneyGram's presence in one of the fastest-growing markets for remittances where the Dallas-based company remains the leading player.
Advancing Africa's financial empowerment
Because of the partnership, Airtel customers will be able to receive payments directly to their phones from more than 220 counties where MoneyGram operates.

The new service will become available by the end of 2020 after getting greenlit by local regulators.

Airtel Africa CEO Raghunath Mandava describes the MoneyGram tie-up as "a significant step" to making the continent financially empowered:
"This is a significant step forward in our ambition to transform lives through greater financial inclusion and empowerment across the continent."
Back in January, MoneyGram also made a foray into the Egyptian market by collaborating with Suez Canal Bank, allowing its clients to deposit their money sent from foreign countries directly to their bank accounts.

Finablr and MoneyGram run on Ripple
Last October, Airtel also partnered with UAE-based holding company Finablr, another Ripple partner, to make cross-border payments more affordable for its subscribers. Sub-Saharan Africa is the most expensive remittance corridor in the world.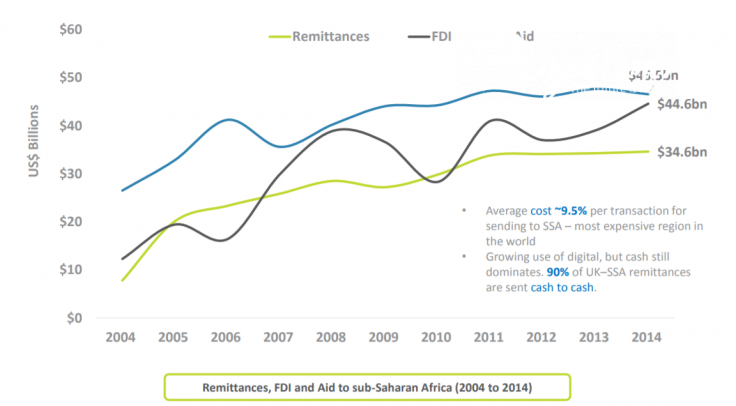 image by cenfri.org
Finablr's subsidiaries UAE Exchange and Unimoni joined the RippleNet network back in February 2019, to let their customers send live payments to Thailand.

Last year, Ripple secured a $50 mln stake in MoneyGram. The latter utilizes XRP-powered On-Demand Liquidity (ODL) for conducting international payments.
However, the soundness of the prized partnership has been called into question. Ripple actually pays millions to MoneyGram in the form of market development fees so that it utilizes XRP.