A recent message posted via the SBI VC Trade Twitter handle states that the exchange is discussing whether or not to take part in the distribution of Spark tokens to the XRP community and is discussing the best possible ways of handling the airdrop.
SBI may join the Spark airdrop via its crypto exchange
SBI VC Trade, a crypto exchange owned by the SBI giant, a major Ripple partner, has published a tweet saying that it is now discussing the chances of supporting the "utility fork" of the XRP ledger by Flare Networks and distributing Spark tokens to XRP holders.
The message stated that, after discussing the issues with the relevant parties and taking other necessary actions, they will announce their decision at a later date.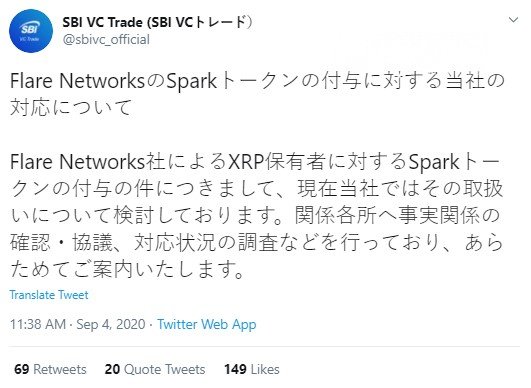 Image via Twitter
While commenting on this tweet, one of the major XRP community members and a YouTube blogger, @sentosumosaba, assumed that those exchanges that will not support the Spark airdrop may find themselves losing their clients.
Those exchanges that don't participate will find themselves losing customers.
The airdrop will take place over the course of six months. All Spark tokens that are not claimed by XRPL account holders will be sent to a special wallet and burnt.
How to participate in the airdrop
In order to take part in the airdrop and receive the promised Spark tokens, XRPL users need to attach some data to their XRPL accounts; this note is necessary for the airdrop mechanism to drop its tokens to the addresses marked.
According to the official media channels belonging to Flare Networks, so far over 11,000 XRPL accounts are taking part in the airdrop, and they cumulatively hold more than 833 mln XRP.