Rohan Pearce, executive editor of major tech news portal Communications Day, has shared that Australia's New Payments Platform has sued the blockchain behemoth Ripple.
Sources say that this could be due to issues with the name of the recent trademark released by Ripple: PayID.
Lawsuit filed against Ripple Labs
Rohan Pearce, executive editor at Communications Day, has spread the word that on Aug. 20, a lawsuit was filed against the San Francisco-based DLT heavyweight in the Federal Court of Australia.
The initiator is a major Australian payment operator, New Payments Platform (NPP). Among NPP's products is PayID which was launched in 2018.
As of this year, more than sixty Australian banks have been utilizing this system.
Now, sources quoted by Pearce suggest that the lawsuit against Ripple is likely to be over the trademark issue, as earlier this year the blockchain decacorn launched an open payment network also called PayID.
The first hearing is set for later this week, Aug. 26.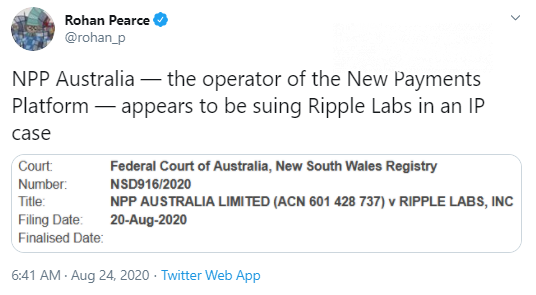 Image via Twitter
About Ripple's PayID
Ripple has been building its new payment network with forty partners, among which are certainly some impressive names from the world of blockchain and crypto: Brave, Blockchain.com, BitGo, Huobi exchange and more.
The goal of this network is to enable average people to send payments as easily as they would send emails, according to a recent tweet posted by Brad Garlinghouse, the Ripple chief.
Ripple has already integrated PayID into its RippleNet network.
Benefits of PayID per Ripple CTO
Previously, current Ripple CTO David Schwartz tweeted the benefits that Ripple's new payment network will offer its users: "human-readable addresses for cryptocurrency payments," "a single destination address for multiple cryptocurrency and fiat payment systems" and meeting regulatory requirements for crypto companies.