Spark, the 'utility fork' of XRP that addresses the empowering XRPL instruments with smart contracts functionality, has launched the first distribution stage of Spark tokens.
First Spark Tokens are Claimed by Ledger Users
Zac Shaiken, a big data expert at SAP and an XRP holder, announced that he claimed Spark tokens in views of the launch of Flare. He unveiled that the Spark tokens were requested through the Ledger Nano S hardware multi-currency wallet.
Just claimed my @FlareNetworks Spark tokens using my @Ledger Nano S. Thank you to @WietseWind for the extremely clear and simple instructions, and to @TowoLabs @xrptoolkit and @RareData for the easy to use web interface that unlocks the full power of the XRPL 🎉

— Zac Shaiken (@ZacShaiken) August 22, 2020
Mr. Shaiken utilized the manual by Wietse Wind, an XRPL Labs lead. As previously covered by CryptoComes, Mr. Wind has published a detailed walk-through and released a supportive software tool to facilitate the process distribution of Spark tokens.
Mr. Shaiken explained what it actually means to claim Spark tokens from a system that hasn't launched yet:
Claiming is just creating a hash of your eth address and adding it to the message key field in your XRPL account.
He also warned all XRP holders that operate their tokens through Ledger devices that they should download the latest versions of the software prior to starting the process of claiming Spark tokens.
One More Spark Redemption Guide is Available for XRP Community
XRP enthusiast Dario Dario Šuveljak, who has created numerous infographics that cover different aspects of XRP operations, has delivered a step-by-step explanation on how to obtain Spark tokens.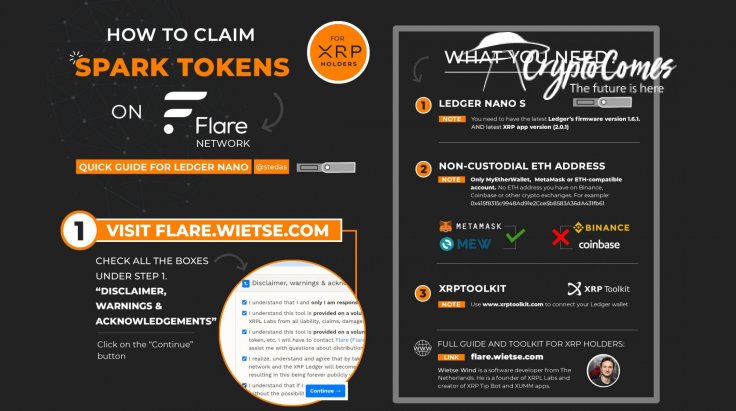 Image by Stedas
He emphasized that the users of the Ledger wallet should upgrade their firmware to v1.6.1 and obtain the latest version of XRP application 2.0.1. Also, the only non-custodial Ethereum-based addresses (e.g. MetaMask, MyEtherWallet etc.) can take part in the token distribution. That being said, no Coinbase or Binance account would work there.
As previously reported by CryptoComes, the Flare Network plans to build smart contracts system with XRP instruments as a backbone. The Flare Network utilizes the world's first Turing complete Federated Byzantine Agreement (FBA) mechanism and will issue FXRP tokens 1:1 pegged to XRP.
Spark tokens will guarantee the integrity and economical sustainability of this system acting as a collateral.