As covered by U.K. business media outlets, a new partnership will allow Moneygram to transfer users' assets through the Tesco banking platform.
Moneygram partners with Tesco, advances international remittances ecosystem
A new way to send money is introduced by Moneygram in partnership with Tesco. Now, every customer can initiate transactions with his/her Moneygram account, specify transaction information and send money. In 24 hours, he/she may deposit money in every Tesco store. At press time, the feature is available in 810 Tesco stores across the U.K.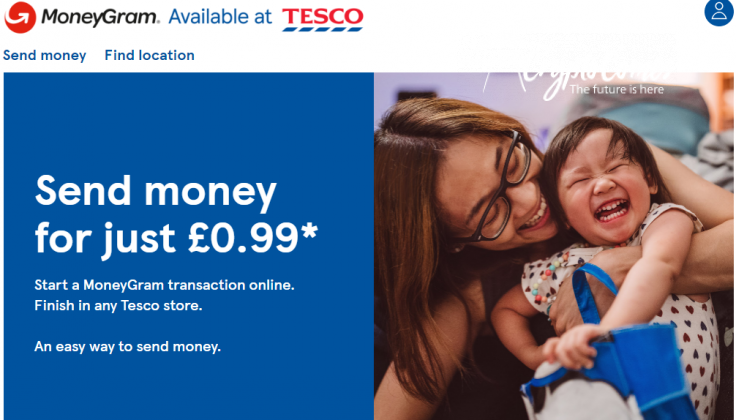 Image by Moneygram
Very soon, 129 more Tesco and Tesco Express stores will join the program covered by the partnership. In 18 months, all 1500 stores will support Moneygram transactions. Transactional fees for new services will start from GBP 0.99.
This novelty will reduce infrastructural and organizational barriers for cross-border transactions. Clients of both Moneygram and Tesco will have one more way to send money abroad.
Moneygram transfers are available for customers in 200 countries and territories. Seventy-five countries support digital currency transactions.
Ripple is expanding worldwide
Richard Meredith, head of the U.K.'s key partnership at MoneyGram, highly values the new cooperation:
This solution is a key milestone in our ongoing collaboration with Tesco Bank in being able to offer a seamless, digitised experience for customers.
With Tesco collaboration, Moneygram has strengthened its positions on the U.K. market. However, it inked a number of meaningful partnerships with payment providers and IT companies across emerging economies.
As covered by CryptoComes recently, Moneygram partnered with top-notch regional telecommunications provider Airtel Africa. This telecom services vendor has onboarded 19 mln customers so far.
Moneygram is a long-term partner of Ripple digital currencies payments provider. Both teams are empowering customers over the world with instant and low-cost cross-border remittances.