In a recent series of tweets, Ripple's David Schwartz shared a story in which he explained why XRPL blockchain creators chose not to implement smart contracts on their ledger, unlike Ethereum, and what the pros and cons of this decision were.
What XRPL lost without smart contracts compared to Ethereum
Ripple CTO David Schwartz tweeted that in today's episode of Ripple's "Block Stars" podcast, he and another XRPL developer (and Coil CEO) Stefan Thomas, among others, discussed why they did not introduce smart contracts on the XRP ledger in the first place, while Ethereum chose to do so.
Schwartz admitted that he and the other XRPL devs, including Thomas, decided against smart contracts and proved to be both right and wrong about it.
To show why XRPL is better off without smart contracts, he took Ethereum as an example.
Smart contracts, Schwartz stated, make a platform worse for conducting payments. Besides, the Ripple CTO said, they infect their blockchain with fee rates jumping up and down, creating problems with performance and generating many weak points for attackers to exploit.
We were right that adding smart contracts makes a platform worse for payments. And we were right that it would introduce fee instability, performance issues, and have lots of attack surface.
All of these cons are the things that Ethereum has recently been actively criticized for. But XRPL does not have those same issues. Still, Schwartz admitted that Ethereum also gained from introducing smart contracts.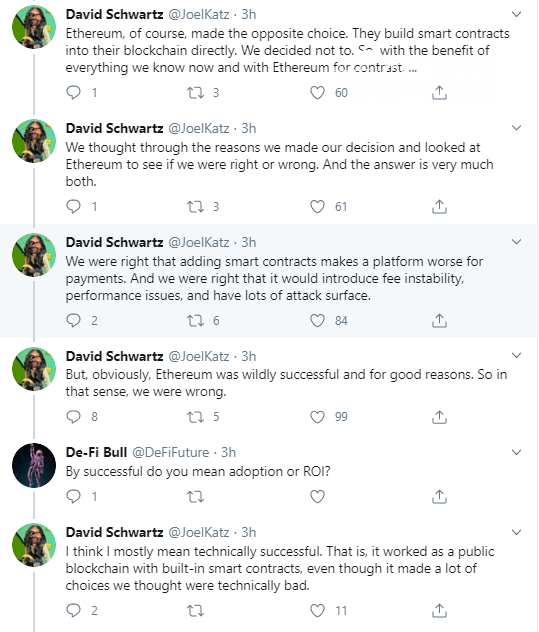 Image via Twitter
"Ethereum was wildly successful"
The Ripple CTO admitted that, despite the above issues, Ethereum "was wildly successful and for good reasons." He added that Ethereum "worked as a public blockchain with built-in smart contracts."
I think I mostly mean technically successful. That is, it worked as a public blockchain with built-in smart contracts, even though it made a lot of choices we thought were technically bad.
Schwartz pointed to certain limitations that restrict the work of smart contracts on Ethereum or make it more complex.
However, he then added that "there are still a lot of useful things Ethereum smart contracts can do despite those limitations."
While Ripple uses XRP ledger to help banks move liquidity and also conduct crypto payments, Ethereum was not meant to be a payment system. But it became a starting point for the majority of other blockchains with native coins, including such giants as Tron, EOS and Binance.