Ethereum-powered predictions market, Augur, has announced the launch of its second version, Augur v2.
The source code of the "fully decentralized" betting protocol has been released on the project's Github page, and users are encouraged to provide their feedback on the major upgrade.
The transition to the second version will also require swapping the platform's native REP token for REP v2, according to the blog post:
Current REP holders will need to manually migrate their REP to the new REPv2 token to participate in the Augur v2 reporting system. You can migrate your REP to REPv2 within the Augur Client.
Five years
What was initially planned as a modified version of Bitcoin ended up being one of the first successful applications of Ethereum.

After his meeting with Ethereum co-founder Vitalik Buterin in 2014, Joey Krug—one of the creators of Augur—decided to deploy smart contracts to allow bettors to interact with one another without involving centralized intermediaries.
The thirteen-strong team ended up raising $5.2 mln by holding one of the very first initial coin offerings (ICOs) in 2015, with 8.8 mln of 11 mln REP tokens being sold to investors.
The main aim of the project is to eliminate centralized and trusted third-parties that dominate the global betting market.

Addressing major pain points
The first version of Augur gave its users the possibility of creating virtually any prediction market—from the likelihood of Donald Trump's election to hurricanes—but it failed to gain significant traction outside the realm of crypto aficionados due to how slow and expensive it was.
The new permissionless version, which completely ditches an administrative key, also speeds up transactions by implementing 0x Mesh and the DAI stablecoin instead of ETH, a volatile cryptocurrency.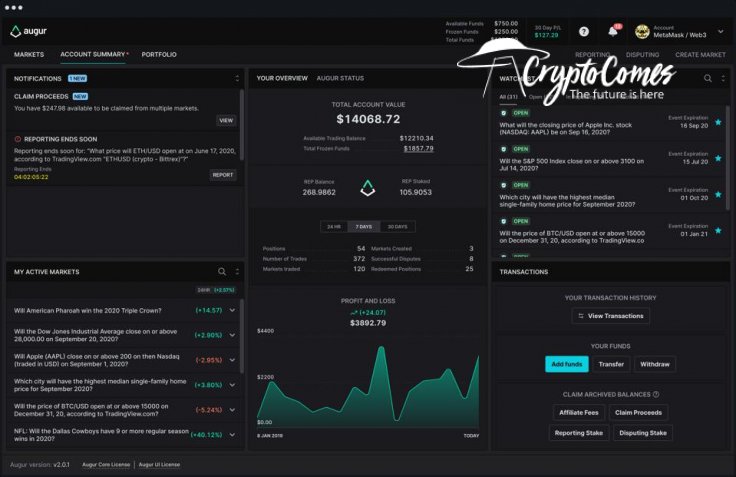 Image by forbes.com
It also aims to solve the main pain point of Version 1—invalid markets—by preventing fraudsters from profiting off "invalid" outcomes.