Poly Enterprise, a blockchain-agnostic protocol for cross-asset interoperability will be used in the Chinese public decentralized project, Blockchain-based Service Network (BSN). Its mission is focused on seamless interaction between multiple blockchains, dApps and cryptocurrencies.
Eliminating the barriers between blockchains
According to the official announcement by Poly Enterprise, its team has inked a partnership with BSN. Solutions by Poly Enterprise will ensure cross-chain interoperability between the parts of the global multi-purpose network.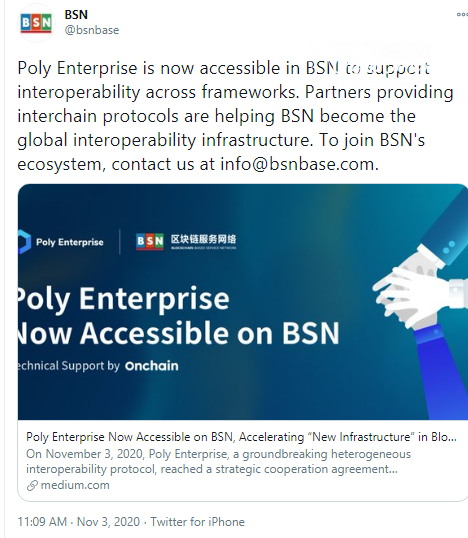 Image via Twitter
Poly's instruments enable smart contract calls between different blockchains, thus ensuring a high level of data accessibility. A more complex ecosystem can be built on this stage of interoperability.
Da Hongfei, inventor of Neo Smart Economy (NEO) protocol and founder of the on-chain team behind Poly's development stressed that the influence of the new cooperation will go far beyond Chinese government-led blockchain experiments:
Transactional consistency is the big goal for cross-blockchain, or more broadly — interoperability, which is the foundation for the entire blockchain ecosystem realizing collaboration and massively building the digital economy of the future. Moving forward, I hope the cooperation between Poly Enterprise and BSN will provide a paradigm for the upgrade and evolution of blockchain in the future.
Poly Enterprise is a B2B-focused product of Poly Networks, an interoperability protocol that was released in August.
BSN, a "blockchain-for-all" product backed by Chinese state
Once integrated into BSN, Poly Enterprise will significantly reduce its operational costs—namely, the expenses for development, deployment, testing and maintenance for dApps.
Blockchain-based Services Network is a unique experimental cross-chain environment established by Chinese state-owned agencies: the State Information Center of China, China Mobile, China UnionPay and Red Date Technology. It consists of 130 public nodes spread across all of the provinces of the P.R.C.
As covered by CryptoComes previously, in Q3, 2020, BSN integrated Chainlink (LINK) oracle solutions. It also supports Ethereum (ETH) and Nervos (CKB) blockchains.
The main use cases of BSN—which is undergoing testnet stage right now—will include delivering public services, law enforcement and business development.