Famous "Gold Bug," Peter Schiff, the most acerbic Bitcoin (BTC) critic, has come for MicroStrategy CEO Michael Saylor. The symbol of the ongoing "corporate adoption" of the flagship crypto has far better instruments to protect his assets from inflation, Mr. Schiff claims.
No reason to gamble
Typically, corporations are acquiring Bitcoins (BTC) as a hedge against the falling value of fiat currencies, including the U.S. Dollar. However, Gold is much more suitable for this purpose, Schiff insists.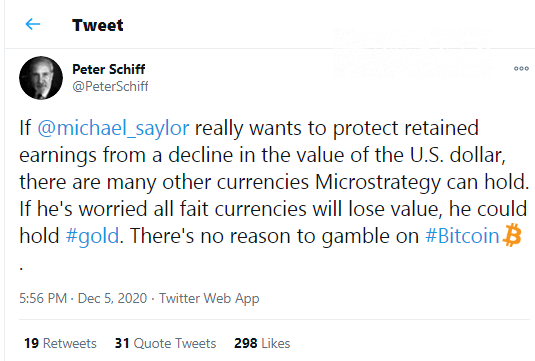 Image via Twitter
Even other fiat currencies may be helpful instruments against Dollar inflation. In that context, holding Bitcoin (BTC) as a corporate reserve asset looks like high-risk "gambling" for the seasoned "Gold Bug."
Twitter followers recalled that Mr. Saylor repeatedly shilled Bitcoin (BTC) over Gold, highlighting the fact that its supply increases while Bitcoin's is fixed at 21 million BTC. As a result, the yellow metal is nothing but a "scarce commodity"; while Bitcoin (BTC) acts as a new-gen financial instrument.
Schiff responded that the 1-2 percent yearly increase in the Gold supply has not damaged its popularity in 5,000 years. Technologies were evolving while Gold remained a brilliant "store of value."
Saylor's MicroStrategy reported another $50 million Bitcoin (BTC) purchase
Dr. Doom finished his take with his patented anti-Bitcoin tirade. Yet again, he called the crypto king a "pipe dream" that can turn into a "nightmare." In terms of monetary price, it is surpassed even by seashells in Schiff's mind.
This discussion took place amidst another massive Bitcoin (BTC) purchase by MicroStrategy. As a publicly listed company, MicroStrategy informed the U.S. SEC that it acquires almost 2,574 Bitcoins (BTC) for $50 million in cash in accordance with its Treasury Reserve Policy, at an average price of approximately $19,427 per Bitcoin.
In total, Saylor's company holds almost 40,824 Bitcoins (BTC), or 0.24% of its entire available supply. In current prices, this allocation is more than $775 million worth.