One of the most powerful actors in the Chinese crypto segment, Minxing "Star" Xu—the founder of the OKEx crypto exchange and its OKB Coin—will stay in a detention facility for six months instead of 37 days, which is normal according to Chinese law. Insider and journalist Colin Wu claims that there is more bad news for OKEx users and investors.
Investigation goes into second round
Wu, well known for his unparalleled expertise in the Chinese crypto and blockchain market, reports that he has information about a prolonged investigation into OKEx founder Minxing "Star" Xu. While the initial term was set at 37 days, the second phase will be a lot longer.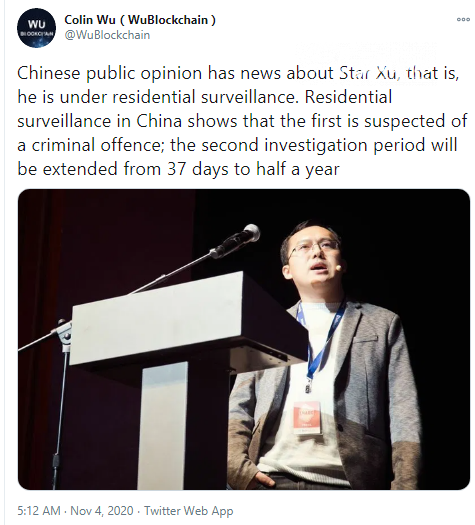 Image via Twitter
Furthermore, other top-tier managers of OKEx may also stay in investigation detention centers for half a year. This "correction" includes solitary confinement with full isolation:
Under specific circumstances, Xu may be locked in a small room with white walls on all sides, no windows, and no sunlight all day long.
Typically, investigators talk to suspects under surveillance only once every two weeks. Thus, the users of OKEx may stay in the dark for a long time regarding the fate of their assets.
As covered by CryptoComes previously, on Oct. 16, Xu was detained by police and all withdrawals from OKEx were halted due to the absence of the required private keys. However, OKEx CEO Jay Hao claimed that all internal operations (staking, spot and derivatives trading, etc.) will continue as expected.
Bitcoin (BTC) does not care about the autumn of regulators
Two day ago, rumors about regulatory pressure on another leading Chinese exchange, Huobi, were spreading. Huobi's top managers admitted the escalation of panic but stated that it is baseless.
This fall, the crypto segment witnessed numerous regulatory attacks. On Oct. 1, the U.S. CFTC released a statement about criminal proceedings against BitMEX and its founders Arthur Hayes, Samuel Reed and Ban Delo. The three entrepreneurs are accused of offering illegal derivatives to U.S. citizens and money laundering.
However, these "black swans," combined with the KuCoin hack, failed to suppress Bitcoin's (BTC) bullish rally over $14,000. Analyst Qiao Wang claimed that this ignorance is a very good sign for the flagship cryptocurrency.