In September 2020, the resignation of Chef Nomi, the anonymous creator of the SushiSwap (SUSHI) "yield farming" ecosystem, triggered a panic-driven SUSHI price drop. Should we short YFI on the latest news about Blue Kirby?
Farewell to Kirby
Today, Oct. 11, numerous crypto enthusiasts noticed that the anonymous legend of the Yearn.Finance (YFI) community, Blue Kirby (@bluekirbyfi), deleted his/her account without warning. Australian crypto evangelist Alex Saunders recalls that, prior to Kirby's resignation, this person had sold all of his/her YFI holdings.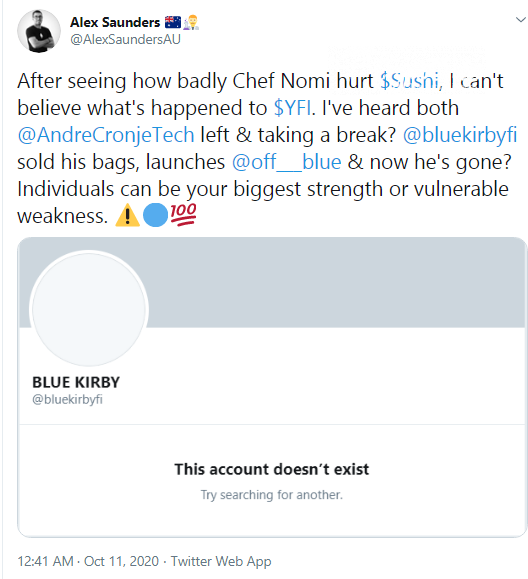 Image via Twitter
Thus, all that is left of Blue Kirby is his/her mysterious project, OFF_BLUE. At press time, all that remains is an Ethereum contract active since Oct. 8 and a Twitter account with 3.3K followers and protected tweets. Allegedly, it will address the red-hot segment of non-fungible tokens (NFTs).
From the very first days of Yearn.Finance's (YFI) popularity, Blue Kirby has been its most passionate promoter. After YFI rocketed in the "fastest 100x" rally in all crypto history, the project contributors submitted a proposal to pay him/her 7,000 USD in monthly compensation.
Mr. Saunders admitted that this is a textbook example of how much the project can depend on a single individual. The community can either benefit from it or find itself plagued by the monstrous influence of a single anonymous person:
Individuals can be your biggest strength or vulnerable weakness.
Aftermath of Eminence (EMN) drama?
Blue Kirby's resignation followed the explosion of the Eminence (EMN) protocol based on Yearn.Finance's (YFI) open source code. Two weeks ago, a malefactor managed to drain $15 mln in EMN liquidity due to a design flaw.
Blue Kirby has aggressively promoted EMN since its launch. After its dramatic hack, he/she was attacked by disappointed DeFi "degens" on Twitter with "all kind of threats." So, on Oct. 4, Blue Kirby distanced himself/herself from all Yearn.Finance (YFI)-related activity and even left all "yield farming" Telegram groups.
Prominent developer Andre Cronje, the inventor of Yearn.Finance (YFI), was also rumored to have abandoned his contribution to DeFi. Meanwhile, on Oct. 9, he explicitly dismissed all rumors of his resignation, but he claimed that he would not be active in Crypto Twitter anymore:
Still here. Still building. Nothing has changed.