According to public Monero (XMR) network charts, the hashrate of this privacy-focused altcoin skyrocketed yesterday, Aug. 6. Monero (XMR) contributors are guessing what is behind this unusual increase.
Monero (XMR) hashrate surges 77% in one day
Monero (XMR) protocol contributor Paul Shapiro has noticed that something unusual is going on with Monero (XMR) mining statistics. Its hashrate (net quantity of hashes calculated by all computers active in a blockchain per second) gained an enormous 77 percent in 24 hours.
HHMMMMmmmmmm… pic.twitter.com/38pwUzFpvL

— Paul Shapiro (@tweetingpauls) August 7, 2020
According to Coinwarz multi-chain explorer, Monero (XMR) has updated its all-time high in terms of hashrate levels. With a new maximum of 2.82 GH/s, it is up 105 percent from the previous ATH registered on February 17.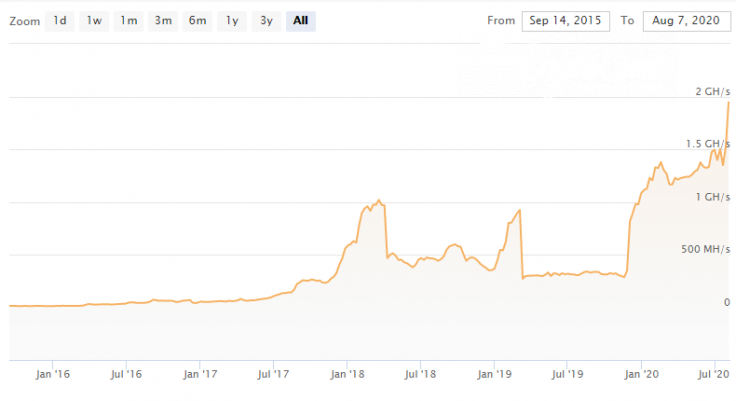 Image by Coinwarz
At press time, the Monero (XMR) hashrate is slowly returning to normal levels.
Monero (XMR) community members are trying to figure out which process may be responsible for this enormous hashrate upsurge. Mr. Akhmed Kamal, entrepreneur and developer, expressed his concerns about possible problems with the Monero (XMR) mining algorithm:
Really hoping that's not RandomX being broken.
Along with that comment, another active member of the Monero (XMR) community, engineer Seth Simmons, supposed that this tremendous growth may not be without malicious interference.
Hackers may access huge computational capacity
According to Mr. Simmons, the operations that have been reflected in the upsurge of Monero's (XMR) hashrate are carried out by the XMRig miner. Since it was designed for CPU/GPU mining, the attackers appear not to be using ASICs for their malicious activity.
Thus, they most likely hacked or stole Azure credits. The attacking botnet may abuse Microsoft Azure cloud computational resources to illicitly run Monero (XMR) mining software.
As covered previously by CryptoComes, the Monero (XMR) project is on the verge of the release of its new white paper. This document may greenlight the process of XMR listing and clarify legal issues related to the privacy-focused essence of this blockchain.