Monero Outreach, an independent community tasked with the adoption of Monero (XMR) privacy-focused cryptocurrency, has published a text that can be useful for every opponent of FinCEN's plans to impose extra regulation on crypto services.
Sample advocacy letter from privacy champions
Monero enthusiasts stressed that newly proposed rules by FinCEN may heavily damage the cryptocurrency segment. These rules will single out private cryptocurrencies—"including Monero by name." Furthermore, FinCEN asked all participants in the crypto market to submit their comments in 15 days only, a procedure that normally takes 60 days.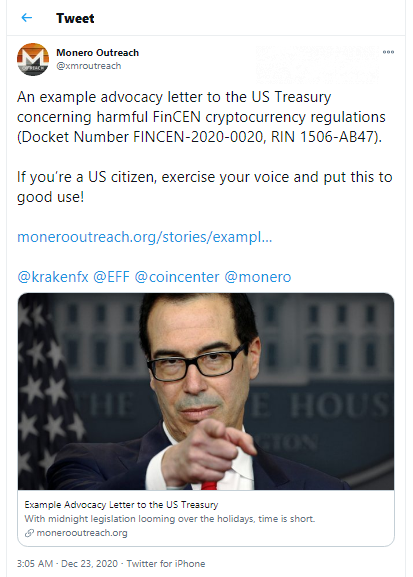 Monero Outreach developed an "example letter" on behalf of every interested actor in the crypto market: "an individual with interest in cryptocurrency." Using this text, all crypto enthusiasts may underline their disagreement with the new restrictions.
Moreover, it is stressed in the letter that FinCEN is attempting to establish rules that are in opposition to the future health and security of the United States.
The proposed regulations will be ineffective at reaching their goals. The new requirements affect transactions to "self-hosted" wallets, but the free transfer of funds from one self-hosted wallet to another is in cryptocurrency's DNA, the text says.
Finally, the only real motivation behind this unprecedented rush is FinCEN's willingness to steamroll new regulations before the acting administration leaves the office.
Industry opposes the initiative of FinCEN
As a conclusion, the letter asks FinCEN officials to discard the rulemaking proposal in question to prevent an attack on the cryptocurrencies segment in its entirety. The authors of this letter compare today's level of blockchain progress to the internet "30 years ago."
As covered by CryptoComes previously, FinCEN proposed to establish "verification" for every transaction greater than $3,000 transferred to a self-hosted wallet. Also, every transaction greater than $10,000 should be directly reported to FinCEN.
Also, the period of discussion was shortened to 15 days (encompassing the Christmas and New Year holidays) from the normal 60 days. This surprising rush has already been slammed by Coinbase's chief legal officer Paul Grewal.