'Crypto Michael' (the alias name take by the analyst Michael van de Poppe on Twitter) expects Chainlink (LINK) to reach $10 as the next target on the chart after going past $7.25 already.
The analyst has referred to the coin as 'such a beast'.
Chainlink has almost doubled in price
In his recent tweet, Michael van de Poppe has written that LINK has overcome the $7.10-$7.25 targets that he had outlined previously, now heading higher.
The analyst has set the next target for LINK at $10 and said that it is just a matter of time before the coin hits it.
Since July 7, when LINK was trading at 4.88, the price has almost doubled, sitting at the $7.79 level at the time of writing.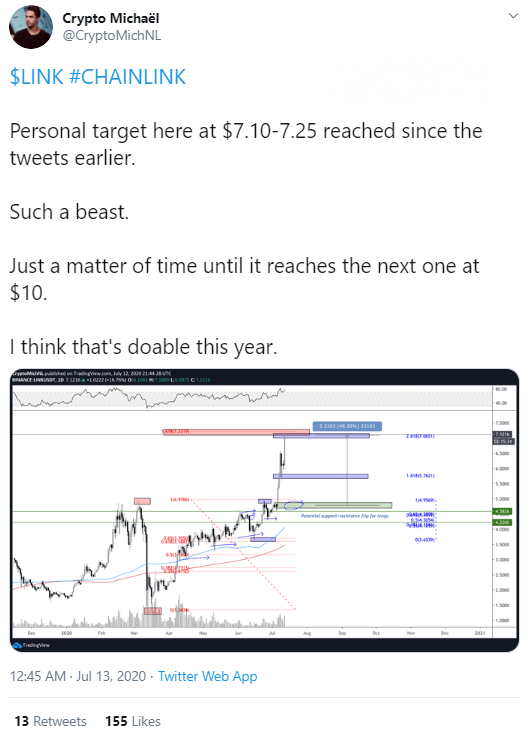 Image via Twitter
LINK has recently dashed into the top-ten list of crypto assets, as per the figures from CoinMarketCap, pushing out the crypto heavyweight EOS and now occupying spot 10.
David Gokhshtein admires LINK
The former US congressional candidate and entrepreneur David Gokhshtein, who is into crypto and supports both Bitcoin and altcoins, has put LINK (as well as XRP) on his list of favorites.
He believes that the next altcoin to skyrocket would be Zilliqa (ZIL). As for XRP, David Gokhstein believes that its haters are going to use this coin in the near future, despite slamming it now.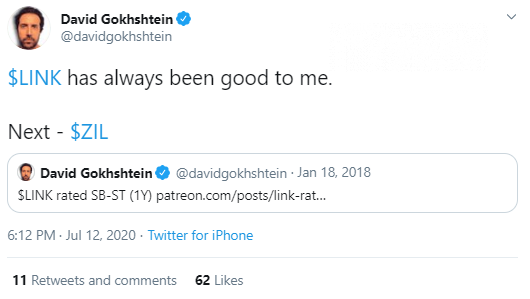 Image via Twitter