In his blog post for NASDAQ's website, cofounder of IOTA Dominik Schiener explained how the supply chain segment transforms with decentralized solutions.
Demand chain instead of supply chain
Schiener is sure that the time has come to replace "reactive" analysis in supply chain processes with "proactive" ones. And it is here that distributed ledger technology comes in. The demand chain is what emerges when DLT reconsiders traditional supply chain methods.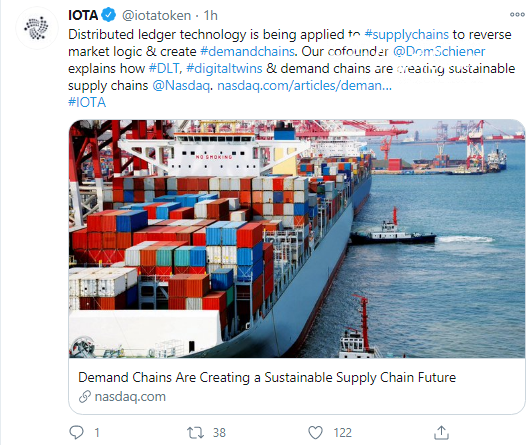 Image via Twitter
A demand chain would harvest the required amount of data about real-life consumers' needs and interests and would transfer the results to merchants. That will make producers and resellers give more accurate and timely responses to users' "pains":
In effect, market demand could be met automatically as soon as it exists, rather than waiting for total supply to run out. This would empower businesses to not only have a wealth of supply chain data, but reform their supply chain processes to become more efficient and create a more sustainable future.
This concept can go live with a full-stack integration of "internet-of-things" devices. Schiener describes a hypothetical car that reports the exhaustion of its tires to both repair station and tire producers.
The process of data transfer within this type of system should be executed with DLT transactions. Only this sort of mechanism will ensure an unparalleled level of trust in the system as no third party is capable of corrupting or deleting data about users' demands.
All we need is data
Schiener highlighted the crucial importance of input for data analyzed by demand chain systems. The technology and methodology of data extraction is the turnkey point of the system.
Mr. Schiener suggests that the creation of a "digital twin" for any object included in the demand chain is the only instrument capable of bringing an adequate level of visibility.
Moving forward, IOTA's leader stressed that supply chain solutions will play a significant role in achieving United Nations Sustainable Development Goals (UN SDG).
As covered by CryptoComes previously, Cardano's Project Catalyst launched a hackathon that was focused on building blockchain-based instruments to achieve these goals.