Grin (GRIN), a privacy-focused proof of work (PoW) blockchain, survived a 51% attack today, Nov. 8, in the early morning hours. The multi-platform mining entity 2Miners confirmed that there was a devastating attack and warned all Grin (GRIN) enthusiasts about reward losses.
Grin Network stops payouts
According to the official announcement by 2Miners, which is the most influential Grin mining pool (with a 19.1% hashrate), the 51% attack prevented legitimate blocks from joining the blockchain. The issues were disclosed by automated services starting from block 949495.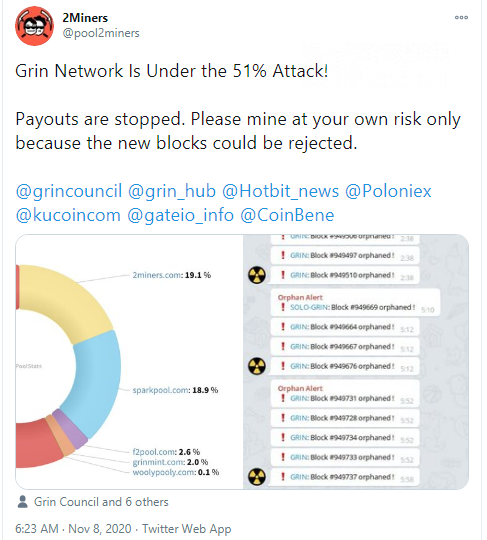 Image via Twitter
In the comments below the tweet, some Grin holders mentioned that the blockchain has lost 90% of its hashrate due to the attack. Meanwhile, at press time, anomalies with the Grin hashrate and network difficulty have still not been erased.
When the attacker started to hijack mining rewards, the aggregated hashate of the Grin network almost doubled in a few hours. At its peak, it reached 105,000 graphs per second. A "graph" is the analogue of a "hash" in Grin.

Image by 2Miners
This level is close to the four-month highs. Also, Grin network difficulty spiked 55% before suddenly dropping to abnormal values. At press time, it is estimated at 180M, which is 10-15% lower than the average for last month.
No 51% attacks in proof of stake (PoS)
While Grin representatives remain silent about the attack and its aftermath, the global crypto community is guessing about the roots and mechanism of the hack. Hudson Jameson, core developer liaison with the Ethereum Foundation, shared news that the malefactors may have used mining capacity rented from Slovenia-based provider NiceHash:
GRIN is getting 51% attacked. I read that the attacker is probably using rentable hashing power from NiceHash. I'm excited and thankful that Ethereum is moving to proof of stake.
It is worth noting that, on Nov. 6, Ethereum cofounder Vitalik Buterin calculated that it would cost $2,189 to intercept $1 per day in staking rewards through a 51% attack on Ethereum 2.0.
By contrast, PoW blockchains are much more vulnerable to 51% attacks. In 2020, Ethereum Classic (ETC) survived three attacks in a row, as covered by CryptoComes.
At press time, GRIN coin is changing hands at $0.23, down almost 4% in the last 24 hours.