Grayscale Investments, a unique digital assets investing corporation, has accomplished another splendid milestone. Amidst developing Bitcoin (BTC) FOMO, the company is increasing its Bitcoin Trust even more aggressively.
Bitcoin, Stellar Lumens, XRP: major Grayscale trusts are rocketing
According to the latest daily update by Grayscale Investments, its Net Assets Under Management (AUM) surpassed $12,100,000,000. Bitcoin Trust (GBTC), a flagship product by Grayscale, broke above $10 billion for the first time in its entire history.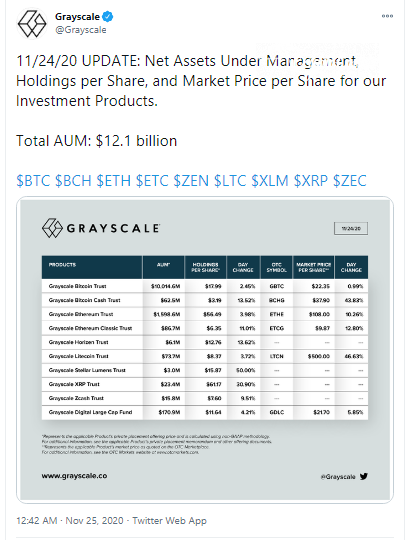 Image via Twitter
As of Nov. 24, the total value of assets under management allocated in Grayscale Bitcoin Trust (GBTC) is estimated at $10,014,600,00. Its shares are trading at $22.35 while $17.99 is the value of each share from the trust.
It is interesting, but along with the impressive milestone, Grayscale Bitcoin Trust (GBTC) demonstrated the lowest increase among all offers by Grayscale.
To provide some context, Stellar Lumens (XLM) Trust added 50 percent in one day, while XRP Trust surged 30.9 percent. Basic assets of the two trusts, Stellar Lumens (XLM) and XRP, have spiked 42.8 percent and 12.9 percent, respectively, in 24 hours.
Grayscale pioneered Bitcoin (BTC) institutional euphoria
Other products of Grayscale—Bitcoin Cash, Ethereum, Ethereum Classic, Horizen, Litecoin and ZCash Trusts—also witnessed gains.
A subsidiary of the Digital Currency Group, Grayscale Investments conglomerate provides its clients with exposure to cryptocurrencies, eliminating clients' need to purchase crypto tokens directly. It sells a "share" of its trusts on U.S.-based over-the-counter markets.
According to the Bitcoin Treasuries tracker, Grayscale Bitcoin Trust is the largest corporate entity involved in Bitcoin (BTC) operations. It has control over more than 2.5 percent of the entire Bitcoin (BTC) supply while all of its competitors hold 1.5 percent combined.
As covered by CryptoComes recently, Skew analysts released an FAQ for all institutional investors who are considering buying their first Bitcoins (BTC). They characterize Bitcoin (BTC) markets as active, liquid and moderately volatile.