Finance veteran Sandie O'Connor, who had worked at JP Morgan Chase since 1988, joins Ripple's Board of Directors. Ripple Inc. emphasizes its efforts to achieve "regulatory clarity" in the U.S.
Ripple Inc. welcomes a "universal soldier"
According to the official announcement by Ripple Inc., the decacorn adds Sandie O'Connor to its Board of Directors. Her area of responsibility will cover expertise in "key government relations and regulatory initiatives" related to the next phase of Ripple Inc. expansion.
Ripple's new BoD member recently retired from JP Morgan Chase, the world-leading banking conglomerate. She worked for this giant for more than 30 years. Her last position was chief regulatory affairs officer. Mrs. O'Connor was responsible for regulatory strategy and interaction with G-20 leaders regarding developing regulatory norms in the financial sector.
Previously, she also served as global treasurer and head of prime services at JP Morgan Chase.
Personally, Mrs. O'Connor highly praises the role of Ripple Inc. in the ongoing global financial transformation:
Ripple is reshaping the financial landscape solving inefficiencies with today's payments infrastructure using digital assets and blockchain technology.
From a transparent regulatory framework to an inclusive financial system
Brad Garlinghouse, CEO of Ripple Inc., stresses the importance of the new director in Ripple's effort to meet all regulatory requirements in the U.S., both existing and developing ones.
Sandie is extremely well-respected by her peers on Wall Street and the regulatory community alike. Her extensive network and in-depth understanding of markets, capital flows and banking will provide valuable and unique insights as new policies and regulations take shape across the U.S.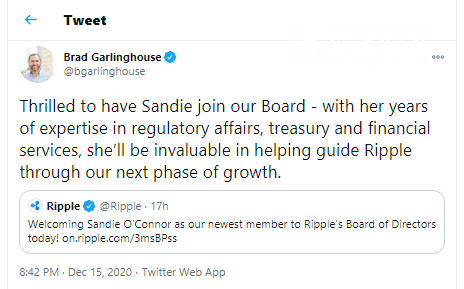 Image via Twitter
As covered by CryptoComes previously, regulatory compliance and the marketing presence in the U.S. are among the most important focuses for Ripple Inc. Earlier this year, Ripple inked a surprising partnership with Bank of America.
This partnership was confirmed by both sides despite the lack of enthusiasm showed by BofA directors towards blockchain technology in general.