Flare Finance, a pioneering decentralized financial ecosystem built on Flare, announces a new website and explorer. The first DeFi that leverages XRP's potential with smart contracts instruments is taking shape.
Six products to start with
Flare Finance, a multi-purpose platform that promotes itself as the first-ever DeFi on Flare, has released a new website with an updated list of products. It includes lending/borrowing instruments, a "yield farming" module, stablecoins and more.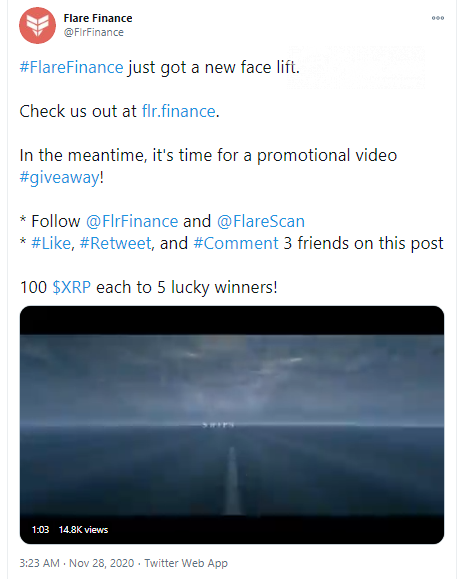 Image via Twitter
With it first release, Flare Finance offers FlareX, a decentralized exchange that leverages Decentralized On-Demand Liquidity channels. The Flare Farm distribution model introduces token rewards for staking different assets with Flare Finance.
FlareWrap allows users to mint USD-pegged stablecoins on Flare. FlareLoans utilizes Decentralized On-Demand Liquidity (DODL) money to issue crypto-backed loans with different assets collateralized.
FlareMutual delivers peer-to-peer insurance solutions to allow risk sharing between accounts on Flare. Finally, FlareMine will act as a decentralized "yield mining" platform that empowers Bitcoin (BTC) and Ethereum (ETH) miners with the opportunity to receive mining rewards in FLR.
Flare explorer and XRP airdrop
Also, the first explorer for Flare Network has commenced operations. Since the mainnet of Flare has not been launched yet, now it indexes and displays the transactions of its "development network," Coston.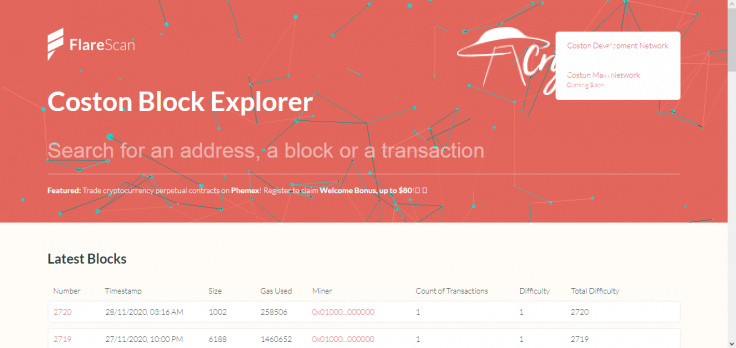 Image by Flare Scan
To celebrate the launch of both products, developers announced an airdrop for Twitter followers. Flare enthusiasts are invited to follow Flare Finance and Flare Scan in Twitter and retweet their messages with three friends mentioned. Five lucky followers will be awarded 100 XRP each.
As covered by CryptoComes, the first-ever Flare-based delegation service, ScandiNodes, went live earlier this week.
With ScandiNodes, Spark tokenholders have an opportunity to stake their assets immediately after their much-anticipated airdrop.