Flare, a pioneering "utility fork" of XRP Ledger, has only one day left before its introductory event, i.e., its snapshot of XRP balances for Spark (FLR) token distribution. Flare's pioneering decentralized financial application (DeFi), Flare Finance, also has some news in terms of tokenomics and marketing.
Flare Finance introduces DFLR, YFLR tokens
In its recent Twitter thread, Flare Finance's team shared the plans for its own airdrop. It will take place one month after the mainnet launch of Flare Networks. All FLR holders will be eligible for this snapshot.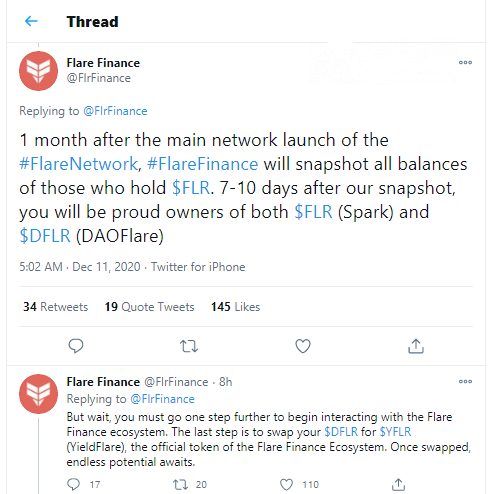 Image via Twitter
Seven to 10 days after the snapshot, the DAOFLare (DFLR) tokens will be distributed between FLR holders. Then, enthusiasts of the Flare Networks ecosystem will have an alternative.
DFLR tokens can be either used for governance purposes or swapped into "yield farming" assets. The YieldFlare (YFLR) asset should be referred to as the "official token of the Flare Finance Ecosystem." YFLR tokens will allow their holders to harness the "endless potential" of a pioneering Flare's DeFi.
As covered by CryptoComes previously, Flare Finance is ambitious enough to promote its product as a "full-stack" DeFi that "delivers institutional grade decentralized finance for all."
Flare Finance will unite decentralized exchange Flare X, "yield farming" module FlareFarm, minting toolkit FlareWrap and lending/borrowing ecosystem FlareLoans.
Samurai Bounty Program is announced
Additional segments of Flare Finance imply Flare Mutual, a peer-to-peer insurance solution and FlareMine, a decentralized instrument to reward Bitcoin (BTC) and Ethereum (ETH) miners with FLR tokens.
To spread the word about its progress, Flare Finance invites all crypto holders to participate in its "Samurai Bounty Program." Just as in 2017, FLR holders can enjoy bonuses for visiting the website, following the Twitter accounts of Flare Finance and its explorer Flare Scan and joining Telegram and Discord.
The most impressive rewards will be assigned to the authors of YouTube videos, text reviews and traders initializing trades on the Phemex exchange. A referral program is also included in this bounty campaign.