Ethereum (ETH) founder, Vitalik Buterin, proposed a concept for Ethereum scalability that includes sidechain and oracles. But some commenters claim that the Ethereum (ETH) mission is too limited for such sophisticated concepts.
'Don't know, ask the people'
Yesterday, on July 2, 2020, Gnosis PM (GNO) founder, Martin Köppelmann, raised concerns about growing whale domination in Ethereum-based decentralized exchanges. He announced that, according to the latest research, the number of DEX users is plummeting while the trading amount is experiencing a triple-digit upsurge.
These calculations led to another round of discussion of Ethereum (ETH) network scalability. Vitalik Buterin proposed a scheme in which rollup-like sidechains (parallel blockchains) interact with the Ethereum mainnet to allow it to scale. The integrity of operations could be upheld by special oracle coins.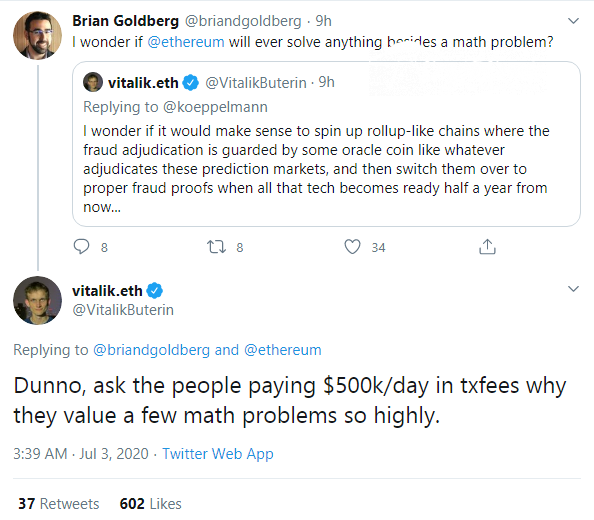 Image via Twitter
Brian Goldberg, a technology expert and IT consultant, claimed that Ethereum (ETH) solves nothing but 'math problems', so, it doesn't need such complex schemes.
Vitalik Buterin mocked this approach and highlighted the incredible interest in Ethereum (ETH)-based solutions. The integral metric of this interest is the amount of transactional fees, which exceeds $500,000 daily.
Who pays the fees?
Ethereum (ETH) network fees were in the spotlight of crypto experts on Q2, 2020. Fee amounts skyrocketed due to the increased activity of PAX-based Ponzis.
As covered by CryptoComes, three days ago analysts registered one more upsurge. This process coincided with a record number of ERC-20 transactions sent by network participants.
Also, a huge portion of fees are paid by issuers of stablecoins who work on top of the Ethereum (ETH) blockchain. The ERC-20 version of the United States Dollar Tether (USDT) is the most popular stablecoin of this type.