As noted by cryptocurrency research firm CoinMetrics, Ethereum's daily median fee is still on the rise, recently surging to 0.0012 ETH (roughly $0.27).

This coincided with the weekly average number of ERC-20 transactions reaching its new all-time high of roughly 450,000.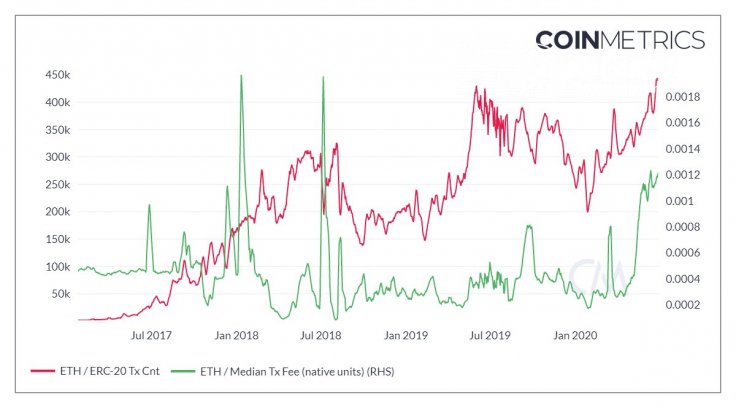 image by @coinmetrics
Tether and DeFi are behind the growth
Earlier this June, Ethereum managed to pull off the 'feepening' by surpassing Bitcoin in terms of the total amount of daily fees paid on its network.

The second-largest cryptocurrency went on to extend its lead from the crypto king throughout the month (primarily, due to the explosion of stablecoins).

The ERC20 version of Tether (USDT) now constitutes 62.5 percent of the total circulating supply of the flagship stablecoin, according to Etherscan data.

Last month, Messari's researcher Ryan Watkins estimated that ERC-20 tokens were about to flip Ethereum itself in terms of the total value stored on the blockchain.
The rise of decentralized finance (DeFi) is also driving the growth of fees since the lion's share of such applications is built on Ethereum.

Stealing Bitcoin's lunch
Another significant trend is the rise of Bitcoin-based ERC20 tokens that are now worth more than $100 mln.
EthHub co-founder Anthony Sassano opined that the growth of tokenized BTC is hurting the crypto king the Bitcoin network is losing fees that are needed to maintain its security.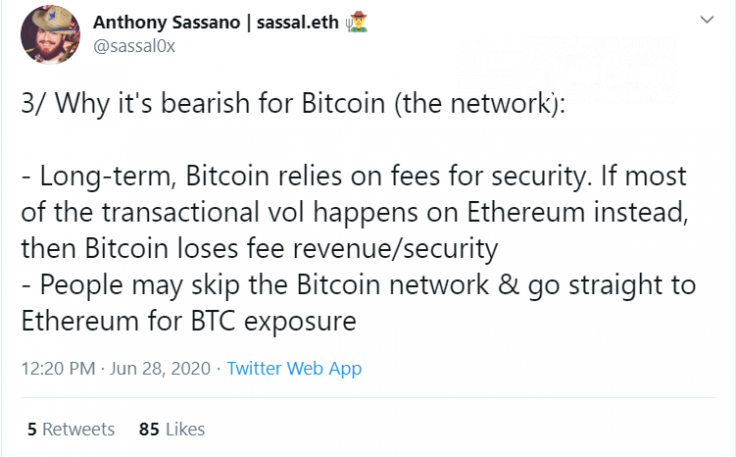 image by @sassal0x