Vitalik Buterin, the Russian-Canadian prodigy who co-founded Ethereum, claims that his brainchild is not opposed to Bitcoin's elusive creator, Satoshi Nakamoto, in his latest tweet. In fact, Buterin says that Ethereum is actually a continuation of Satoshi's vision.

With this statement, Buterin shows his commitment to fighting the tribalism that is prevalent within the cryptocurrency community.
No truce with Bitcoin maxis
After co-founding Bitcoin Magazine in 2012, Buterin went on to work on his own project that would expand crypto's use cases far beyond financial transactions. This ended up becoming the second-largest blockchain that recently celebrated its fifth anniversary.

Back in June 2017, Ethereum came close to surpassing Bitcoin's market cap, securing a 31 percent market share. With Ethereum starting to significantly outperform Bitcoin this year due to the DeFi explosion, the flippening narrative is picking up steam again. This inevitably led to heated debate about what is actually driving the recent market rally.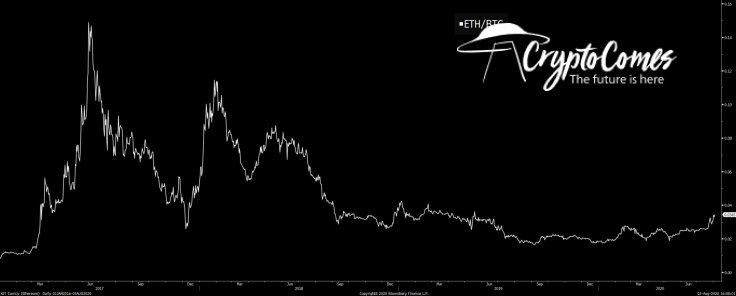 Image by @TheStalwart
This year, Buterin himself took a couple of veiled and not-so-veiled swipes at the bellwether coin himself. Back in May, he argued that Bitcoin was more centralized than Ethereum, which ruffles the feathers of Bitcoin maximalists.

After Bitcoiners joined forces with Tron CEO Justin Sun, Buterin made a clumsy historical comparison between their bizarre alliance and the Axis powers.

On the heels of the mushrooming growth of synthetic BTC-backed ERC 20 tokens, Buterin also made a controversial remark that Ethereum could end up in first place:
Another thing that could happen is that there's just more and more demand for this, and Ethereum becomes that of the primary place where Bitcoin activity happens.
Calling out Craig Wright
Speaking about the unknown identity behind the name Satoshi Nakamoto, whose vision Ethereum is supposed to represent, Buterin opined that it helps to detach the project from its creator and prevent someone from misinterpreting his ideas:
All that's remaining if that whole process is the thing itself then I think no one can go, and try to and if interpret any of your other behavior.
Notably, self-proclaimed Satoshi Craig Wright, the main backer of the infamous Bitcoin Satoshi Vision (BSV) fork, sued Buterin for calling him "a fraud," but the lawsuit went nowhere.