Bitfly, an Austria-based Ethereum (ETH) development studio, has confirmed the launch of Spadina, the most unusual Ethereum 2.0 testnet so far. It will be live for three days and will work hand-in-hand with another ETH2 testnet environment, Medalla.
Spadina has gone live with 91,000+ Ethers staked
Today, Sept. 29, Spadina, the short-term Ethereum 2.0 testnet with a mainnet set of configurations, commenced its operations. At press time, it has gone through its first two phases of activity, Epoch 0 and Epoch 1. According to live statistical data by Bitfly dashboard Beaconcha.in, 2,856 active validators have staked 91,392 Ethers.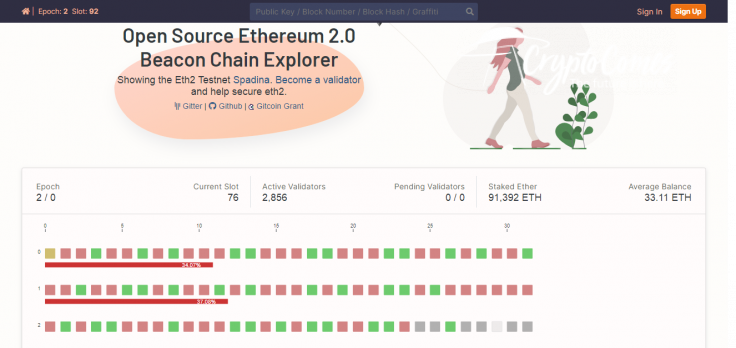 Image by Beaconcha.in
However, according to statistics unveiled prior to launch, the entire amount of Ether holdings ready for staking surpassed 170,000 Ethers, or $60 mln.
As displayed by the dashboard launched by Bitfly for non-tech enthusiasts of Ethereum (ETH) 2.0, median block time in Spadina is about 12 seconds, while a new epoch starts every six minutes:
The Spadina Testnet started rolling.

Our metrics on https://t.co/OJsKMQMe5o has been very helpful 🙏#ethereum pic.twitter.com/ztqnHM5s6H

— Bitfly (@etherchain_org) September 29, 2020
The rollout of Spadina is accompanied by a video conference with some of its participants. However, it has only 39 percent of active validators out of 66 percent required to finalize epochs properly.
In an introductory blog post, the Ethereum (ETH) 2.0 coordinator from the Ethereum Foundation, Danny Ryan, called Spadina the "dress rehearsal" before the mainnet launch of Ethereum on Proof-of-Stake consensus.
Paving the way to the Beacon Chain
Spadina's experimental testnet is one of the last preparations prior to the launch of the Beacon Chain (Phase 0). After its short three-day lifespan, operations may continue, but without the support of the official Ethereum (ETH) infrastructure.
Then, Ethereum (ETH) 2.0 developers are invited to take part in the community-driven Medalla Data Challenge. Sponsored by the Ethereum Foundation (EF), this challenge is focused on the visualization of key data processes involved in Medalla.
Ethereum 2.0 (ETH) is a Proof-of-Stake iteration of the Ethereum main network. It will replace mining by staking as a way to secure network operations. The entire Ethereum (ETH) network will be divided into several interconnected shards to make the process of scaling more natural.