The proportion of Ethereum addresses making a profit reached a two-year high of 73.206 percent, according to Glassnode data.

This comes after ETH rallied over 42 percent over the past two days to $341 on July 30—its highest level since June 2019.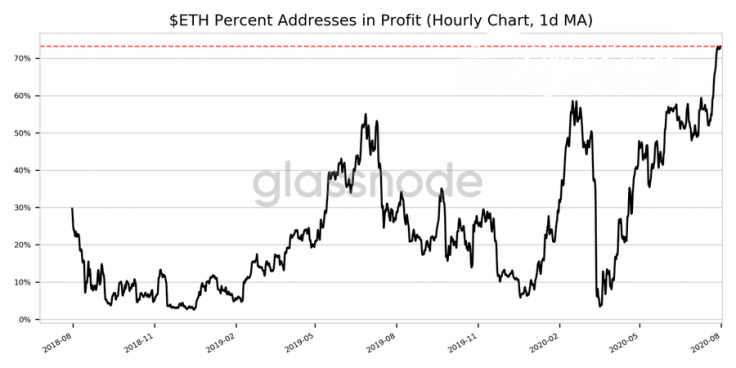 Image by @glassnodealerts
ETH addresses making a profit double
Notably, the previous two-year high of 73.167 percent was set on July 28, just two days before the new one.

The second-largest cryptocurrency remains on a tear as "DeFi" is shaping up to be the most overused crypto-related buzzword in 2020.

According to recent research published by IntoTheBlock, the percentage of addresses "in the money" recently doubled compared to 2019.

Image by thedefiant.substack.com
To put this into perspective, when ETH hit the $300 level on June 22, 2019, the lion's share of holders was actually sitting on losses.
The number of profitable Ether addresses has since ballooned from 13.5 mln to almost 32 mln, surpassing all BTC addresses. This signals that many holders managed to bring their average costs down:
Additionally, since the growth in addresses profiting is greater than the increase in the total number of ETH addresses with a balance, we can establish that approximately 1 million previous ETH holders opted to bring their average cost down.
More bullish signs
It is also worth mentioning that addresses that have held Ether for more than one year soared to 24.5 mln.

Moreover, Ethereum's transactions recently came close to their January 2018 peak when the network was nearing its maximum capacity during the peak of the ICO mania.
Overall, these on-chain metrics suggest that Ethereum is currently undervalued, at least in relation to its valuation a year ago.