Amidst an insane Ethereum (ETH) price breakout over $500, the enthusiasts of Ethereum 2.0 aggressively increased the speed of sending Ethers into ETH2 deposit contracts. Will Ethereans launch Ethereum 2.0 Phase Zero in time?
Deposit contract activity prints new records
According to statistics shared by Ethereum services provider Bitfly, yesterday, on Nov. 20, Ethereum 2.0 stakers were far more active than on previous days. In 24 hours, they sent to deposit contracts 29,152 Ethers, or $14,86 mln in equivalent.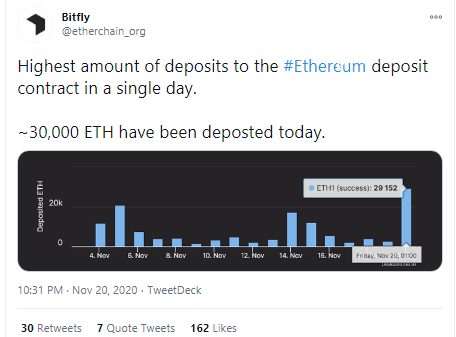 Image by Twitter
The previous record was registered on Nov. 5 with 20,000 Ethers sent in 24 hours. However, in U.S. Dollar equivalent, the sum barely surpassed $8 mln. Thus, two weeks ago, depositors locked 46 percent less value in the initial ETH2 contract.
This spike in the activity of Ethereum 2.0 enthusiasts allowed ETH2 deposit contracts to achieve another crucial milestone. As noted by Ethereum researcher Nick Cannon (@0xEther), almost one-third of the sum required by Ethereum 2.0 was locked after the record-breaking day.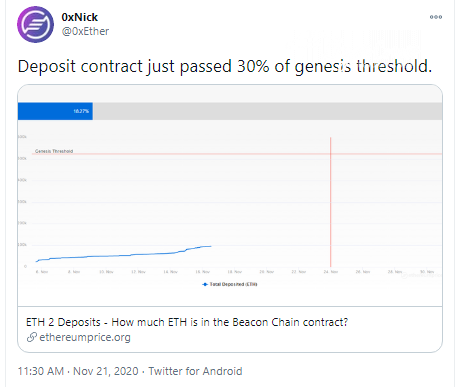 Image via Twitter
It appears that a rapid upsurge in the Ethereum (ETH) price is motivating Ethereans to accelerate the deposit process. At press time, the Ethereum 2.0 deposit contract progress indicator surpassed 36 percent with 189,000 Ethers locked, according to EthereumPrice.org.
Community is uncertain
It should be noted that the minimum amount of stakers' deposits in Ethereum 2.0 is 32 ETH. The proof of stake (PoS) version of the Ethereum protocol launches if 524,288 Ethers are deposited by Nov. 25.
As covered by CryptoComes previously, the Ethereum community doubts the likelihood of Ethereum 2.0 launching in time. Decentralized prediction market platform Omen displays that only 45.42 percent of bettors are sure that the ETH2 genesis event will occur successfully on Dec. 1.
The concerns of the community have been catalyzed by the latest statements of Vitalik Buterin, Ethereum's inventor. He stressed that, regardless of the accurate genesis date of ETH2, its entire mechanism will be in the "transformation" stage for two years.
He admitted that the process of ETH1-ETH2 transition is very complex and includes algorithm change, infrastructure migration and fee-burning implementation.