Only two weeks remain before the scheduled date of Ethereum 2.0 Phase 0 activation. Meanwhile, there is a lack of confidence within the Ethereum community, decentralized prediction markets say.
48 percent of Omen users are sure Ethereum 2.0 will not launch in time
Omen.eth, a leading on-chain decentralized prediction market platform, has initiated a vote about the prospects of Ethereum 2.0 launching on Dec. 1. Recently, this day was announced as the ETH2 genesis date by its coordinator, Danny Ryan.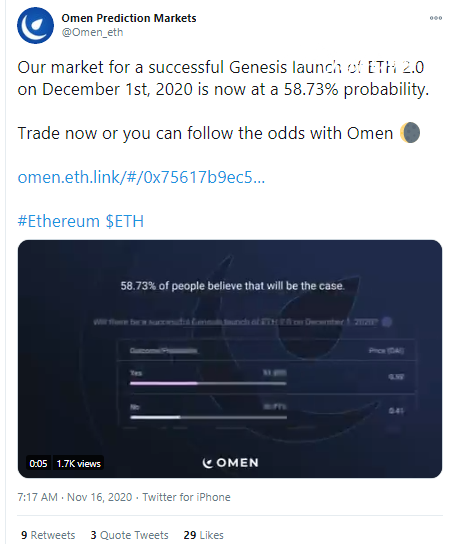 Image via Twitter
At press time, 51.65 percent of the participants claimed that Ethereum 2.0 will arrive on Dec. 1 in accordance with its roadmap. A total of 48.65 percent of voters doubt this perspective.
Thus, one "yay" vote is worth 0.52 WETH, while one "nay" costs 0.48 WETH. The market is active, as its aggregated volume surpasses 17.8 WETH and 10 890 USDC—or almost $18,700 USD in all.
Wrapped Ethereum (an ERC-20 asset with price pegged to 1 Ether) and USD Coin (USDC) stablecoins are used as two basic assets for this vote.
Community is losing its confidence
In terms of historic performance, "Yes" position rates are on their way to new lows. The all-time low for yeses was registered on Nov. 13-14.
Only on these days, "Yes" was a less popular answer than its opposite. Fifty-five percent of voters were sure that Ethereum 2.0 would not launch on time.
As covered by CryptoComes previously, this is not the only Omen market on Ethereum 2.0's launch date.
The Ethereum (ETH) community is much more enthusiastic about the prospects of an ETH2 launch by the end of 2020. Almost 92 percent of voters are sure that this launch will take place. A total of $450,000 are at stake in this market.