Ethereum's inventor, Vitalik Buterin, explained one more time why the full-fledged rollout of Ethereum 2.0 may take many months. Meanwhile, Ethereum 2.0's initial deposit contract reached 20 percent of the sum required by ETH2 Phase 0 for its launch.
Why so long?
Within the framework of a recent "ask-me-anything" Reddit session, Vitalik Buterin of the Ethereum Foundation yet again highlighted the complex essence of the ETH1-ETH2 transition. He indicates its three key dimensions: namely, algorithm change, infrastructure migration and fee burning implementation.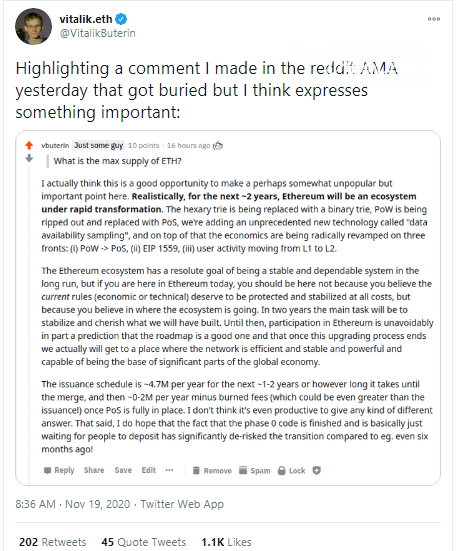 Image via Twitter
As a result, the Ethereum ecosystem may spend the next 24 months in a state of transition that will heavily affect all network fundamentals:
Realistically, for the next ~2 years, Ethereum will be an ecosystem under rapid transformation.
Thus, Vitalik claims that the only catalyst for being involved in Ethereum's transition to version 2.0 is a strong belief in the direction of its progress. The ambition of Ethereum is to become a significant part of the global economic system. That's why the optimization and stabilization of its operations will take such a long period of time.
Vitalik shared this take when asked about the maximum Ethereum supply—the holy grail of all pro-Bitcoin trolls. In Ethereum 2.0, 4.7 mln Ethers will be released per year during the transition, while up to 2 mln ETH/year minus burned fees will be unlocked after Phase 1 activation.
Deposit contract accomplishes 20 percent milestone
Meanwhile, slowly but surely, Ethereum (ETH) 2.0 validators are increasing the amount of staked Ethers. At press time, it surpassed 105,000 ETH, which is more than the 20 percent target level.
The launch date is scheduled for Dec. 1, but it looks like Ethereum enthusiasts may not freeze the required sum by this date.
Analyst Elias Simos of Bison Trails, who authored the most profound study of Ethereum testnet Medalla, is optimistic about the prospects of the ETH2 deposit contract. He indicated the primary groups of stakeholders interested in validating.
According to Simos, mostly Ethereum whales, long-term activists from 2015-2016 and seasoned investors constitute the most influential players in Ethereum (ETH) 2.0 staking right now.