A Twitter discussion about the appearance of hedge fund manager Dan Tapiero on Anthony Pompliano's The Pomp Podcast #463 led to a surprising confession by prominent economist Raoul Pal.
Bitcoin, Gold, or both?
Wall Street veteran Mr. Tapiero, cofounder of 10T Capital and Gold Bullion International investment funds, sat down with the cofounder of Morgan Creek Digital and Bitcoin (BTC) proponent Anthony Pompliano to discuss the investment features of Bitcoin (BTC) and Gold.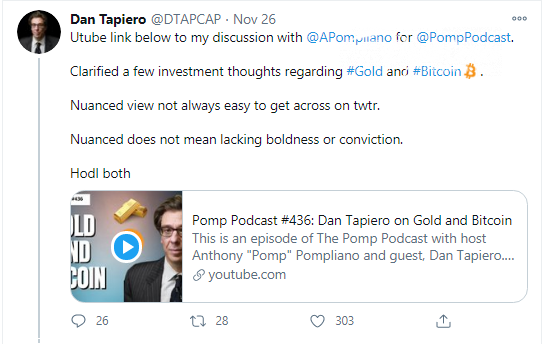 Image via Twitter
The podcast's audience was excited by Tapiero's view on Bitcoiners as the most passionate "believers" among all assets' proponents.
However, Tapiero finds the "Digital Gold" narrative to be very limiting when it comes to explaining the real value of Bitcoin (BTC) for the modern world. He asked Raoul Pal why people typically lacked understanding of this limitation.
Mr. Pal admitted that he is a "hodler" of both assets, but he was immediately attacked by "XRP Army" soldiers. XRP supporters announced that their favorite coin is the one with the huge potential for cross-border remittances and solves real problems of real-world customers.
Meanwhile, Raoul Pal has already built up a picture of what XRP is.
The ice is melting
Mr. Pal admitted that he is now informed about XRP on a basic level and, despite the fact that he is still far from buying it, his general approach to the most controversial cryptocurrency ever has changed:
Im warming to XRP, to be honest...I now have a basic understanding. I dont own it.
This confession triggered the Bitcoin (BTC) maximalists in a blink of an eye. Seasoned cypherpunk and CEO of Blockstream Bitcoin (BTC) development studio yet again highlighted the fraudulent nature of XRP:
@RaoulGMI it's an overt scam. Seriously.
Parallax Digital CEO Robert Breedlove also warned Mr. Pal against getting excited about XRP:
If you're going to get lost in the shitcoin jungle, just know there are many who have trekked before you.
As covered by CryptoComes previously, XRP's triple-digit rally over $0.72 was catalyzed by aggressive promotion on TikTok, the favorite social media platform of zoomers.