The popular crypto trader, analyst and founder and CEO of the Blockroots educational platform, Josh Rager, has explained why he is so pessimistic about the performance perspectives of Dogecoin (DOGE).
TikTok pump is losing its steam
According to the chart that Mr. Rager has shared in a recent tweet, the weak prospects of Dogecoin (DOGE) are obvious. Its price dynamics turned bearish yesterday, on July 9th, 2020. A price collapse is visible on the four-hour timeframe.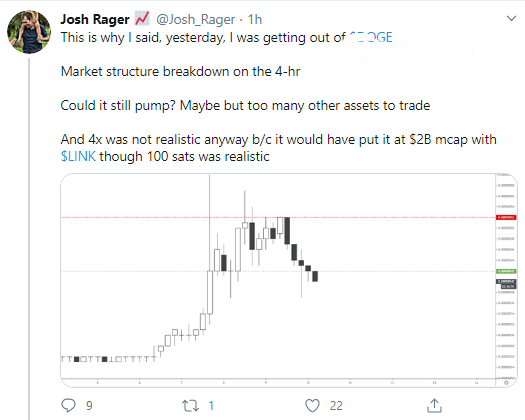 Image via Twitter
The trading expert also highlighted that the initial goals of the 'TikTok pump' didn't look realistic to him. Should they be reached, the Dogecoin (DOGE) evaluation would surpass Chainlink's (LINK) and stay above $2B.
A chart based on a one-our timeframe looks more bullish but, in general, it also doesn't change the overall look of the market structure. Josh Rager recommended traders be very cautious in areas below 40 satoshis for DOGE.
Also, he warned that a proper trader shouldn't attach themself to their trading. Although, writing about memetic coin price swings has been interesting for Mr. Rager.
Could this really happen again?
Mr. Rager admits that this pump may return, but this scenario doesn't look realistic to him. Altcoin trader attention has already been drawn away from Dogecoin (DOGE) due to the splendid performance of other assets.
'So many assets to trade', is how Josh Rager describes the situation on the altcoin market.
Dogecoin (DOGE), a meme coin with no real value designed in 2016, showcased triple-digit gains in recent days. It can be attributed to TikTok as many influencers from this social network recommended their followers buy Dogecoin (DOGE) to increase its price.
The final goal of this pump was to reach $1 per DOGE so the coin just needs to surge 333 times to please the excited zoomers.