The final part of Coingecko's Q2, 2020, cryptocurrency report covers the segment of decentralized finances. Analysts detected the most profitable assets and indicated a couple of amazing metrics for the record books.
DeFi trading volume showcases triple-digit gains
According to Coingecko experts, the net capitalization growth of the top 5 DeFi assets significantly outperformed the top 5 stablecoins, the top 5 exchange native assets and the top 5 cryptocurrencies, i.e., Bitcoin (BTC), Ethereum (ETH), the U.S. Dollar Tether (USDT), Bitcoin Cash (BCH) and XRP.
The USDT market cap has been counted in both top crypto and top stablecoin categories. It looks like market capitalization of the top DeFi tokens will inch closer to the market cap of exchange tokens.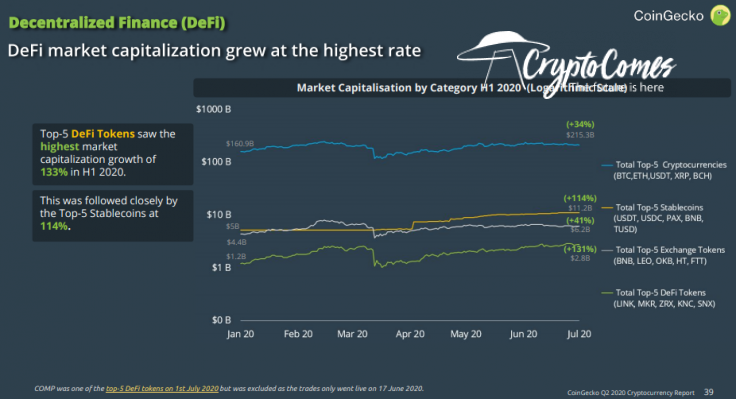 Image by CoinGecko
But the DeFi assets trading volume showcased an even more impressive upsurge. As covered previously by CryptoComes, Coingecko analysts indicated the collapse of the top cryptocurrencies' trading volume.
By contrast, the trading value of DeFi assets gained almost 200 percent in Q2 of 2020. To compare, their closest followers—exchange tokens—gained only 13 percent.
Leaders of the pack: Aave (LEND) and Kyber Network (KNC)
Six assets from the turbulent segment of decentralized financial applications surged more than 100 percent: Chainlink (LINK), Compound (COMP), Loopring (LRC), REN (REN), Kyner Network (KNC) and Aave (LEND). Even amidst this amazing snapshot, two results look surprising.
First, Aave Protocol Token (LEND) has had an unmatched rally. It managed to surge 712 percent during the first half of 2020. Also, the global cryptocurrency community was excited by the run of Compound Token (COMP) that spiked more than 100 percent in its first three days of public listing.
DeFi assets recovered well from the Black Thursday crash. If we were to consider Q2, 2020, performance only, the top league of triple-digit gainers would be enriched by Synthetix Network Token (SNX) and 0x (ZRX).
Needless to say, the price performance of DeFi assets surpassed that of the crypto behemoths. This means that all top DeFi coins outperformed Bitcoin (BTC) while all but one (Maker) also outperformed Ethereum (ETH)—despite the fact that the Ethereum (ETH) network remains a nucleus of decentralized finances.