One analyst has given his optimistic evaluation of the progress of the decentralized finance sphere, but has given advice to all of the excited 'yield farmers'.
DeFi doesn't look like ICO
Analyst Qiao Wang has announced that the DeFi sector is here for real. Thus, this bubble doesn't look like the initial coin offering mania of 2017 that exhausted itself in a few months. But the efforts behind the success of decentralized financial protocols may take years, even decades.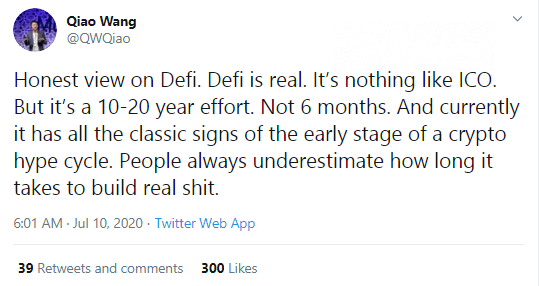 Image via Twitter
So, six months, i.e. the period of DeFi's explosive growth, has only started the nascent stage of industry evolution. In terms of mass adoption, it looks like the 'early stage of a crypto hype cycle'. As covered by Cryptocomes, the total amount of value locked in DeFi has surged from $1B to $2B in less than half a year.
At this stage, both developers and users are blowing the bubble. The activity of 'blowing' doesn't depend on whether DeFi enthusiasts understand the nature and mechanisms of this segment.
The progress of DeFi will be driven by capital and talent, so it is crucial for a profitable journey across this sphere to find a balance, the analyst emphasized.
Speculators should be careful
Since the community definitely lacks understanding of how the system works, the success here could come to a random party.
Those who plan to speculate on enormous DeFi asset rallies should be very careful as 'hype is good at a balance'.
The breakthrough of DeFi has already influenced the state of the blockchain realm. For instance, Ethereum (ETH) has been outperforming the Bitcoin (BTC) network in terms of miner fees for more than 30 days in a row.