Dash (DASH), a cryptocurrency focused on retail cross-border remittances and mass real-world adoption of crypto transactions, has announced a meaningful partnership and shared development update.
Pay by Card, Get Cashbacks in Crypto
It has been announced by local technology media that the Dash Core Group, a team tasked with the development of Dash cryptocurrency, has partnered with a Mexican startup called Tauros. Tauros delivers services of cryptocurrency payments and exchange.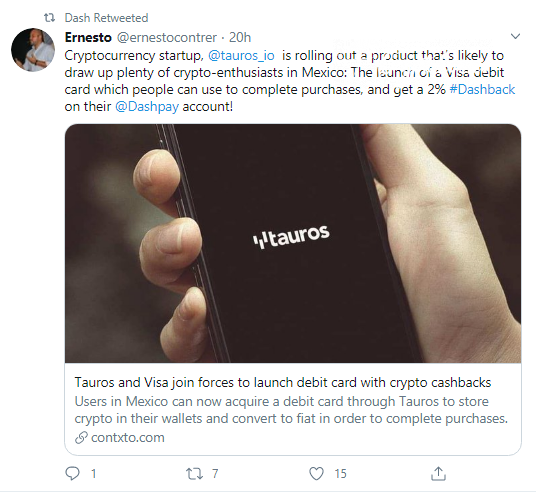 Image via Twitter
The startup, which is gaining steam in terms of cryptocurrency adoption in Mexico, is building a debit card system powered by Visa. Debit cards, issued by Tauros, will support native exchanges between cryptocurrencies and the Mexican Peso.
Aside from that, this card will act as an ordinary payment instrument, both in retail PoS-terminals and e-commerce stores. The 'killing feature' is 2% cashback in Dash cryptocurrency.
According to Mr. Ernesto Contreras, Head of Business Development in DashPay, this 'DashBack' will be rewarded seamlessly to the accounts of DASH holders:
The launch of a Visa debit card which people can use to complete purchases and get a 2% #Dashback on their @Dashpay account!
New Android wallet and reconsidered synchronization
Mr. Fernando Gutierrez, chief marketing officer of Dash Core Group, also shared the latest news about the Dash (DASH) development process. According to his release, Dash deployed new version of its Android wallet - v7.0.8.
Earlier this year, the Dash Core Group unveiled that the quantity of active users of its Android wallets in Venezuela surged 627%. This increase in DASH's popularity is surrounded by the 900% exchange rate decline of the Bolivar Soberano (local currency) against the U.S. Dollar.
Additionally, a new scheme of chain synchronization was activated within the Dash (DASH) wallet for Android-based smartphones and laptops.