Mr. Zhu mocked skeptics and media outlets that attempted to find the negative effects of the ongoing rally for cryptocurrency capitalization.
Nothing is bearish here
Today the headlines of all of the major financial media outlets are excited by the performance of Chinese stock markets. The CSI 300 index, which replicates the top 300 companies publicly listed on the Shanghai Stock Exchange and the Shenzhen Stock Exchange, has broken above its five-year high. At press time it is as high as 4,670 points while the Hang Seng index has risen almost 9% in one week.
The Amber Group, which addresses the sphere of digital assets investments, announced that its analysts are treating this rally as a bearish sign for crypto. Mr. Zhu bashed this take with an acerbic comment.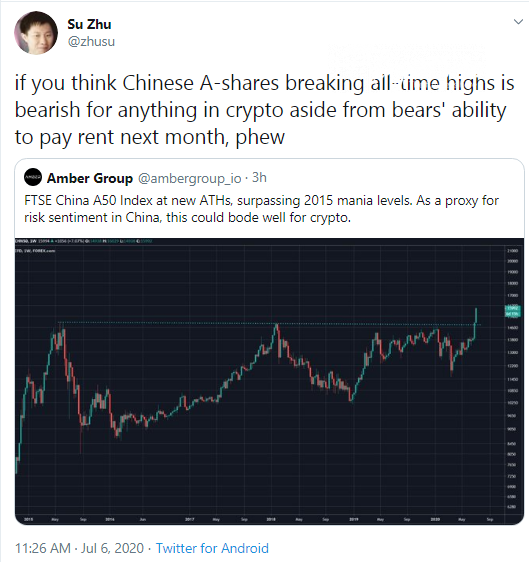 Image via Twitter
Even with the FTSE A50 Chinese index of top PRC stocks running above all-time-highs, Mr. Zhu doesn't see this performance as a bearish indicator for crypto.
He ironically noticed that cryptocurrency bears had better make sure they can pay rent next month.
Stocks are surging amidst uncertainty
Many analysts highlight that the ongoing euphoria is outperforming the 2015 China stock mania by a wide margin. The interest in stocks may also be boosted by the very boring Bitcoin (BTC) performance in recent months.
Also, Chinese financial watchdogs frightened the investor and entrepreneur community with draconian regulatory measures. As reported by Bloomberg today, on July 6, 2020, new checks have been imposed on all transactions over $71,000 for businesses and $14,000 for individuals.
The People's Bank of China announced various regulatory frameworks for different regions and provinces. Also, sophisticated clients will need to pre-report all large deposits and withdrawals. It looks like this may boost interest in USDT remittances.